American Graduate
1.3 million kids drop out of high school per year, costing our nation more than $100 billion annually in lost wages and taxes, plus the increased social costs due to crime and healthcare.
Experts estimate that American businesses are in need of 97 million middle- and high-skill workers, yet only 45 million Americans possess the necessary education and skills to qualify for these positions. The majority of job openings in the next decade will require at least some postsecondary education.
"American Graduate: Let's Make It Happen" is a public media initiative, supported by the Corporation for Public Broadcasting (CPB), to help students stay on the path to graduation and future success. Public broadcasting has a long history improving educational outcomes for high-need students and communities. The dropout crisis demands attention now, and we are rising to the challenge of doing our part to address this problem.
Check out the WFYI's American Graduate Website to gather information, view previous broadcasts, and learn more about how you can help Central Indiana students stay on the path to graduation!
American Graduate News
Students at local school spent last semester studying NPR
May 14, 2014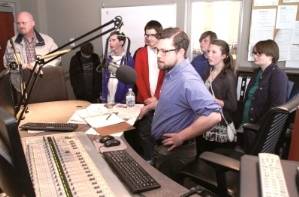 For a small group of sophomores and juniors at Midwest Academy in Indianapolis, National Public Radio was their "text book" for an entire semester as they studies current events and explored the concepts of objectivity and subjectivity in journalism. "The goal of NPR 101 was really to get students to think more criticaly about what they hear in the news," said Tom Harrison, teacher of the NPR course. Read More.
Indiana Partnerships Center Seeks Public Input
April 15, 2014
The Indiana Center for Family, School, and Community Partnerships, one of WFYI's American Graduate partners, is conducting a survey on parent preferences entitled "What Matters Most." The purpose of the survey is to gather data on which programs, curriculum, policies, and communication strategies are the most valued by families in our state. Survey is available in both english and spanish.
Youth Speaks Partners with American Graduate for "Raise Up" National Contest
April 21, 2014
Youth Speaks recently announced a new youth hip hop and spoken word contest and radio special with the Corporation for Public Broadcasting (CPB) called "Raise Up." This nationwide contest is designed to use the power of spoken word and hip hop, as well as the reach of public media to foster a discussion among a diverse group of young people about their education and future aspirations. The winners – chosen by a panel of judges, including Def Jam Co-Founder Russell Simons and actress Rosario Dawson, will perform at The Kennedy Center. The Raise Up Project is part of American Graduate: Let's Make It Happen, a public media effort to help communities address the high school dropout crisis. Participation is limited to individuals ages 15 – 22. Submissions will be accepted from April 1 through June 30, 2014. Learn more and apply.