American Graduate News
Students at local school spent last semester studying NPR
May 14, 2014 - Tricia Schug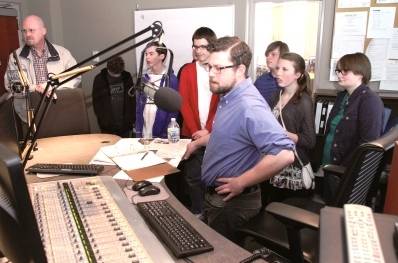 For a small group of sophomores and juniors at Midwest Academy in Indianapolis, National Public Radio was their "text book" for an entire semester as they studies current events and explored the concepts of objectivity and subjectivity in journalism. "The goal of NPR 101 was really to get students to think more criticaly about what they hear in the news," said Tom Harrison, teacher of the NPR course.
Students used information they learned on 90.1 WFYI each day, both in class, and at home, as a springboard for delving further into curent events and topical features. "Students also compared what they heard on NPR with what they learned from other news outlets to study bias and how information can be bent to get people to think in a different way," Harrison added.
Throughout the semester, Harrison noticeda shift in his students. "As the semester progressed, they became more in-tune with current events," he said. "At one point, students came to class, telling me what Indiana is doing with Common Core."
The idea for the class evlved out of an appreciation for NPR's brand of journalism by Headmaster Kevin Gailey. "We want students to become lifelong NPR listeners because we feel that the depth of the coverage and analysis NPR gives to news is missing from other outlets," he said. But also, the way words are used in programming helps students develop their writing ability and their converational skills."
Midwest Academy specialized in teaching students who have been unsuccessful in more traditional learning environments. The NPR 101 class levels the playing field for students with learning disabilities, Gailey noted. "This class gives them common ground because learning disability does not play a role in the class. The class is focused mostly on critical thinking and opinion, and students can't do that incorrectly, so it brings up their confidence level," he said. "Students feel capable, confident, and smarter, and when current events come up in conversation, they can be the expert in the room."