A Gathering of Heroes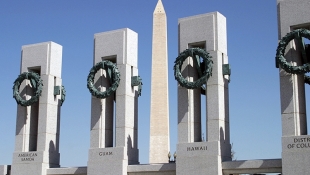 In May 2004, the United States sang the praises of the 16 million who served in the armed forces and millions more who toiled in the factories during World War II by dedicating a long-awaited memorial in Washington D.C.

"A Gathering of Heroes" is the story of a reunion of a group of 60 Hoosier World War II veterans – most of who had never met. They came together during the unusually hot summer of 2005 for a 15-hour cross-country bus trek to the nation's capital to see the memorial…their memorial.
This half-hour documentary, produced by Kim Jacobs for WFYI Public Television, brings the veteran's stories into the open as they humbly share their emotional tales of struggle and survival. Many of the stories on the documentary had never been told by the unsung heroes who, years ago, were eager to forget about the horrors of war and content to move on and live quietly among us.