Full Circle: The Life and Times of Edgar Whitcomb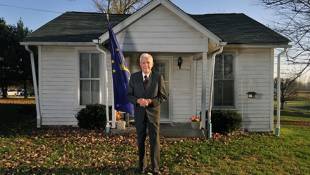 Men and women dream of serving their country with distinction, living a life of adventure and facing danger with courage. Few accomplish it. Edgar Whitcomb, Indiana's 43rd governor, is an exception.
From his dramatic escape out of the Philippines during World War II to abandoning politics for the thrills of sailing solo around the world, Whitcomb is an explorer with an independence that makes him a truly unconventional and unique Hoosier.
Today, Whitcomb resides in the small Ohio River town of Rome, Indiana ‒ population 36 ‒ where he enjoys a quiet life outside the limelight and far away from the tall buildings and boardrooms that define many former Governors. Ed Whitcomb's is a story about a thirst for excitement and world exploration; a tale of danger and adventure that both begins and ends in the hills of southern Indiana.