Lest We Forget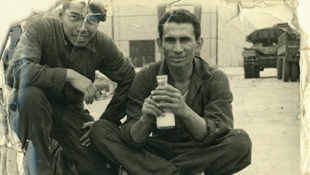 "Lest We Forget" is a personal recollection of World War II from the unique perspective of Columbus, Indiana resident Gustav Potthoff, a survivor of the Japanese slave labor camp responsible for the building of the notorious Bridge over the River Kwai.
The now infamous bridge was built by prisoners of war to cross the river as part of what became known as the Thai-Burma "Death Railway." More than 100,000 POWs would ultimately lose their lives building the railway under horrific conditions. Many of them were buried where they fell.
Potthoff kept most of those nightmarish experiences to himself, until he retired from his job in Columbus. As an outlet, he used art to convey his memories as a POW. He now has made several journeys back to Thailand to visit the site of the POW camp, and has become an important exponent for remembering the atrocities that occurred there.
"Lest We Forget" is made possible by the generous support of: The Walter and Elizabeth Nugent Foundation; The Lynne M. Maguire Family; Dennis and Francis McCarty; Atterbury-Bakalar Air Museum, Incorporated; The Indiana Air Force Association; Aerospace Education Foundation, Incorporated; and Owen Stickles
Additional support was made possible through numerous donations, big and small, from members of the Columbus, Indiana community, who embraced the idea of this story being told.