Location, Location, Location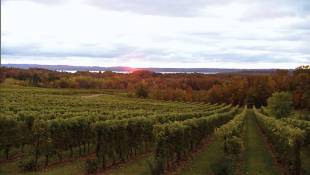 The Old Mission Peninsula of Michigan, just north of Traverse City, provides the perfect growing season for delicious cherries. As it turns out, the climate in "the cherry capital of the world" is also ripe for the area's newest crop – grapes. Over the last several decades, those grapes have expanded the peninsula's image into a leading wine producer as well.
WFYI's new documentary looks at the shifting landscape of the peninsula, talks with the growers and explores the crusade to bring grapes and wine to the cherry capital, located seven hours north of Indianapolis.
For Gary Harrison, WFYI producer of this film, the documentary is a labor of love. He and his family have vacationed on the peninsula since the 1960s, and in the 1980s, he worked at the area's only winery. "I've seen the changes there, and thought it would be fun to document the transition," he said.
The result is a lighthearted glimpse into what's becoming serious business for our northern neighbors.
"I wanted the film to talk about the history of cherry farming and the transition into grapes, but there's a unique, quirky quality to the people in the wine business there, and I wanted to capture that as well," Harrison noted.
Through footage of beautiful scenery and conversations with interesting characters, the one-hour documentary offers an affectionate look at the visionaries determined to transition from cherries to grapes. Throughout it all, they remind us that life is fun -- which like a good glass of wine -- should be lingered over and savored.
TV Schedule
Sunday
February 1, 2015
7:00PM | WFYI 3 (20.3)