American Graduate News
WFYI's Education Mission Expands with New Funds
September 1, 2014
As students accross central Indiana began the new school year these past few weeks, many may already be on a path that will lead them to drop out of school.
Funding forwards American Graduate work
WFYI Public Media wants to reverse the dropout trend. And thanks to a recent grant from the Corporation for Public Broadcasting (CPB), WFYI will extend its work over the next two years to help reduce student dropout rates through the public media initiative American Graduate: Let's Make it Happen. More specifically, the recent grant of $200,000 from CPB allows WFYI to work with our community to increase understanding about the challenges for at-risk youth and to develop long-term solutions. Additionally, WFYI will celebrate everyday heroes as American Graduate Champions in ways that inspire others to make a difference in the life of a child.
Helps illuminate issues; stimulate discussion
"WFYI is thrilled with the continued support from the Corporation for Public Broadcasting that will allow us to build on our progress over these past three yers. The American Graduate initiative is central to the fulfillment of our mission of service to our community," said Lloyd Wright, president and CEO, WFYI. "WFYI has helped build important community partnerships with individuals and organizations committed to helping students succeed. It's through these collaborations that we iluminate the issues around education, stimulate dialogue, and share stories of success that connect people.
Builds on success of past three years
Through the American Graduate Initiative, WFYI and its partners--neighborhood centers, higher education institutions, schools, businesses, funders, mentoring organizations, and more--have changed state policy, highlighted exemplary practices, connected people with resources, brought national voices to Indiana, and helped organizations discover new ways to work.
During the past three years, Indiana has realized a 4.5-percent increase in graduation rates at the state level, while poverty continues to be a serious challenge for students. Through the American Graduate Initiative, WFYI will continue to build on this forward momentum with the goal of helping the community reach 90-percent graduation rates by the year 2020.
"The CPB grant will allow WFYI to sustain the American Graduate work, and bolster our commitment to education in hopes of taking our engagement to an even higher level," Wright added. "As an active participant in the life of our community, WFYI is committed to using its media resources to inspire the best in our community. We want to challenge ourselves and our partners to explore new ways of thinking and working more closely together to help students from cradle to career."
Watch stories of success during our day-long American Graduate Day coverarage on Saturday, September 27.

Students at local school spent last semester studying NPR
May 14, 2014 - Tricia Schug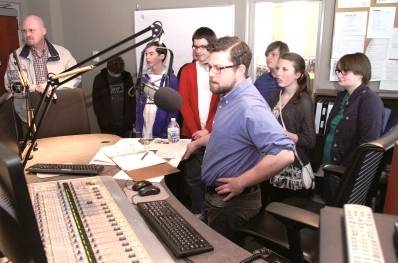 For a small group of sophomores and juniors at Midwest Academy in Indianapolis, National Public Radio was their "text book" for an entire semester as they studies current events and explored the concepts of objectivity and subjectivity in journalism. "The goal of NPR 101 was really to get students to think more criticaly about what they hear in the news," said Tom Harrison, teacher of the NPR course.
Students used information they learned on 90.1 WFYI each day, both in class, and at home, as a springboard for delving further into curent events and topical features. "Students also compared what they heard on NPR with what they learned from other news outlets to study bias and how information can be bent to get people to think in a different way," Harrison added.
Throughout the semester, Harrison noticeda shift in his students. "As the semester progressed, they became more in-tune with current events," he said. "At one point, students came to class, telling me what Indiana is doing with Common Core."
The idea for the class evlved out of an appreciation for NPR's brand of journalism by Headmaster Kevin Gailey. "We want students to become lifelong NPR listeners because we feel that the depth of the coverage and analysis NPR gives to news is missing from other outlets," he said. But also, the way words are used in programming helps students develop their writing ability and their converational skills."
Midwest Academy specialized in teaching students who have been unsuccessful in more traditional learning environments. The NPR 101 class levels the playing field for students with learning disabilities, Gailey noted. "This class gives them common ground because learning disability does not play a role in the class. The class is focused mostly on critical thinking and opinion, and students can't do that incorrectly, so it brings up their confidence level," he said. "Students feel capable, confident, and smarter, and when current events come up in conversation, they can be the expert in the room."