2019 Homeschool Fair - Homeschoolers & Libraries: Partners in Learning!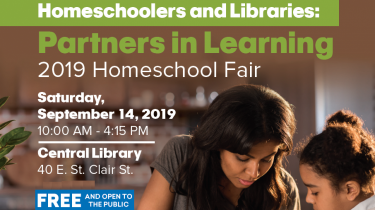 September 14, 2019

10:30 am - 4:15 pm
Central Library
40 E St Clair St
Register
Homeschooling parents, families, students, and all those interested in learning more are invited to the the first IndyPL homeschool family conference and information fair, a day filled with learning and fun!
IndyPL, Indiana State Library, IAHE, WFYI, Kids Ink, and experienced homeschooling parents will present panels, resources, research, and hands-on STEM activities. The opening session will be an entertaining and informative science demonstration by Lilly Scientist Guy Hansen. This program is made possible by Friends of the Library through gifts to The Indianapolis Public Library Foundation.
WFYI will be presenting on PBS Kids Ready To Learn Resources and The Story of Eva.
This event is free and open to the public. The first 250 families to register will receive a re-usable shopping bag and a children's non-fiction book.