Because of COVID-19: Managing Medical Debt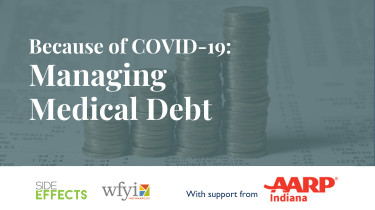 March 4, 2021

Thursday, March 4, 7-8 p.m.
RSVP here!
Medical debt was a problem well before COVID sent thousands of people to hospitals. How has the pandemic affected this issue? What can you do if you find yourself in a tight spot? Join Side Effects Public Media for a discussion of medical debt.
Guests include Dan Weissman, host of the "Arm and a Leg" podcast; John Brengle, attorney with Indiana Legal Services; and Jenifer Bosco, attorney with the National Consumer Law Center. Carter Barrett, reporter with Side Effects Public Media, will moderate.
The conversation will be streamed live here.