Breakfast with Rick Steves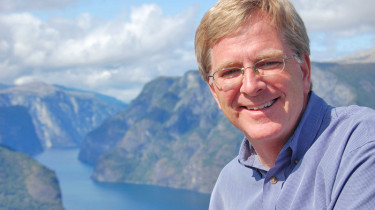 December 2, 2019

8:30-11 a.m.
WFYI Studio
Get Tickets
We have an incredible opportunity for you to rub elbows (and clink orange juice glasses) with Rick Steves, one of the world's foremost travel experts.
On Monday, Dec. 2, WFYI will host an exclusive breakfast with Rick here at our studios from 8:30 to 11 a.m. where you could ask him any travel-related questions you want. You can also watch as he records promotional messages we'll play over the air, get a photo taken with him, and even bring in your own personal items for him to sign.
If you would like to secure a seat for this special experience, we're asking for a $15 monthly gift or a one-time donation of $180. We only have 30 spots available, so please respond promptly to secure your seat. Just click this link or call 1-800-233-0020.