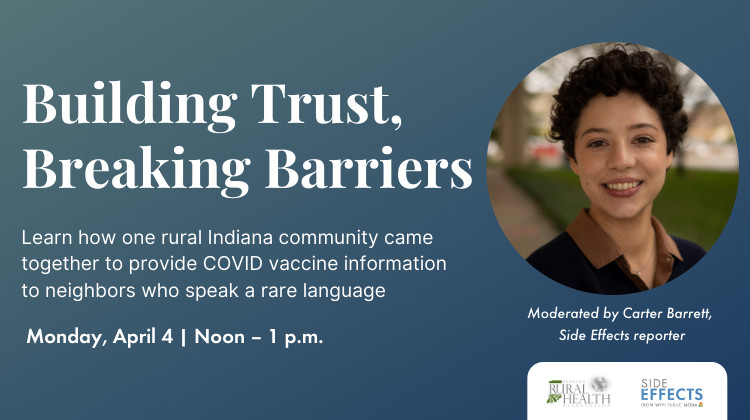 Culture, news and community – connected to you.
Building Trust, Breaking Barriers
Register here
---
Date and Time
Monday, April 4, 2022 12 p.m. (ET)

---
About the Event
When COVID-19 vaccines became available, removing barriers to the vaccine for new immigrants and non-English speaking communities took some creativity — and collaboration. One small-town hospital in southern Indiana worked with local schools, churches, and nonprofits to form a Hispanic health task force, and worked with a group of trilingual high school students to get vaccine information to residents who speak a rare language. Learn how they did it, and why such trust-building efforts will continue to pay off.
Please register to receive a Zoom link.
Featuring:
Carter Barrett, moderator, reporter with Side Effects Public Media
Ana DeGante, Seymour Community Schools Spanish Language Coordinator
Whitney Amuchastegui, Su Casa Executive Director
Ashley Caceres, United Way Covering Kids & Families Bilingual Navigator
Bethany Daugherty, health and wellness education specialist at the Schneck Medical Center
Brought to you by Side Effects Public Media and the Indiana Rural Health Association.
---
Partners
Noon-1 p.m.
Register here