Data and Drafts: Food Access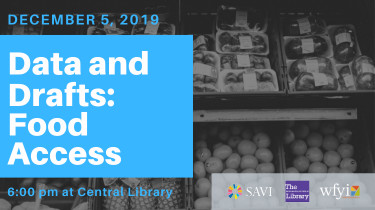 December 5, 2019

6:00 pm
Central Library
40 East Saint Clair Street
Indianapolis, IN 46204
RSVP
What do we know about food access in Indianapolis? How do the maps and the math add up?
Last November, SAVI used recent, local data to improve on food access measures, and found that an estimated 200,000 Indianapolis residents live in low-income neighborhoods with low food access.
Dig into the reasons and solutions with POLIS Center analysts during Data and Drafts on Tuesday, December 5th, 6 p.m., at Central Library.
Light snacks and beer from Sun King Brewery will be available.
Event is free to attend. 21+ only. RSVPs are requested.
Presented in Partnership by: WFYI Public Media, The Indianapolis Public Library, and SAVI