Data and Drafts: Indianapolis Racial Equity Report Card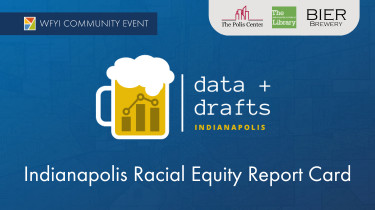 November 17, 2022

6:00 - 8:00 pm
Central Library
40 E St Clair St.
Get Tickets
Racial disparities define daily life in Indianapolis. White households make $26,000 more per year on average than Black households. Only around 40 percent of Latino households own their home compared to two thirds of white households. Racial segregation has created huge differences in life expectancy between neighboring communities.

In this initial phase of the Report Card, we are seeking feedback from as many Indianapolis stakeholders as possible on what measures you think should be tracked. During this event, we will present a preliminary report and discuss the outcomes that are important to measure as Indy holds itself accountable to creating a racially just and more equitable community.

The report card will highlight seven key indicators, important drivers, and more. It will feature further research and solutions from our own community and nationally. The initial report card categories were chosen and prioritized based on feedback from community members, city leaders, and The Polis Center and include Economy, Education, Health, Housing, Justice, Environment, and Access. Polis will modify the report card to reflect feedback gathered in this phase and will update the report annually thereafter.
Light snacks and beer from Bier Brewery will be available.
Event is free to attend. 21+ only. As space is limited, advanced registration is required.
Parking is available in the Central Library Garage, which can be accessed via Pennsylvania St.
The program will be held in the Riley Room, located on the main floor of the Library.
______
This program is presented in Partnership by: WFYI Public Media, The Indianapolis Public Library, and The Polis Center.