Domestic Violence conversation with Indianapolis Recorder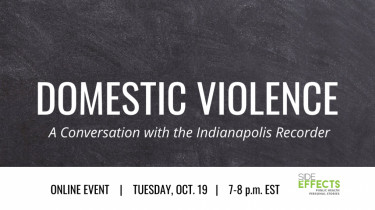 October 19, 2021

Livestreamed to Facebook
Tuesday, Oct. 19 from 7-8 p.m.

RSVP here!
Domestic violence has worsened during the pandemic as people have spent more time at home. What can people do if they find themselves in a dangerous situation? Join Indianapolis Recorder editor Oseye Boyd for a virtual discussion of domestic violence in the Black community.

Panelists include:
Danyette Smith, Silent No More founder and Director of Strategic Initiatives for the Domestic Violence Network
Timike Jones, Primary Prevention Program Specialist and Rape Prevention & Education Coordinator with the Indiana Coalition Against Domestic Violence
Jami Schnurpel, director of programs and survivor services at the Julian Center
Tricia Mills, attorney at Indiana Legal Services, Inc.

The conversation will be streamed live to Facebook on Tuesday, Oct. 19 from 7-8 p.m. Link: https://fb.me/e/2F4jslMB7