INconversation with Vann R. Newkirk II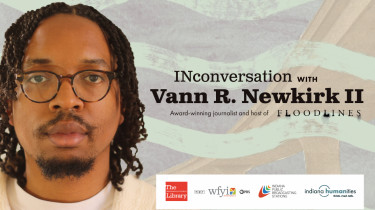 June 29, 2022

Indianapolis Public Library - Central Library
40 East Saint Clair Street
Indianapolis, IN 46204
RSVP here!
Join us Wednesday, June 29 for a conversation with award-winning journalist Vann R. Newkirk II at the Indianapolis Public Library
About this event
In the award-winning "Floodlines" podcast released in 2020, journalist Vann R. Newkirk II and his team at The Atlantic exposed how history, media, policy and people interacted in the crisis that was Hurricane Katrina, bringing new insights to causes and outcomes of the 2005 disaster. The podcast, and Newkirk's reporting broadly, demonstrates the importance of journalism in revealing the deep inequities that are at the heart of America's climate crisis. During this INconversation program, we'll discuss how journalism questions, describes and uncovers environmental inequalities, and how storytelling can inspire new, more equitable futures.
Offered as part of Indiana Humanities' Unearthed programming, a multiyear initiative encouraging Hoosiers to discover and discuss their relationships with the natural world, this special INconversation with Vann R. Newkirk II will feature a moderated conversation with local environmental journalist Rebecca Thiele, environment and energy issues reporter for Indiana Public Broadcasting News. The evening will wrap up with an audience Q&A. This event is free and open to the public. Registration is required.
This program is part of the "Democracy and the Informed Citizen" initiative, administered by the Federation of State Humanities Councils. The initiative seeks to deepen the public's knowledge and appreciation of the vital connections between democracy, the humanities, journalism, and an informed citizenry. We thank The Andrew W. Mellon Foundation for their generous support of this initiative and the Pulitzer Prizes for their partnership. This program is also made possible in partnership with WFYI, Indiana Public Broadcasting News, and the Indianapolis Public Library.
ASL interpretation will be provided.
____________________________________
SCHEDULE (All times Eastern.)
5:45 p.m. - Doors open
6:00 – 7:30 p.m. - INconversation with Vann R. Newkirk II moderated by Rebecca Thiele
This program will also be available to view via livestream from WFYI. Follow Indiana Humanities (@INhumanities) on social media to be notified when the livestream begins.
____________________________________
About Vann R. Newkirk II Vann R. Newkirk II is a senior editor at The Atlantic, and the host and co-creator of the 2021 Peabody Award-winning podcast "Floodlines," an eight-part narrative series about Hurricane Katrina and its aftermath, released in March 2020.
"Floodlines" was named the top podcast of 2020 by NPR, The New Yorker and New York Magazine. For years, Newkirk has covered voting rights, democracy and environmental justice, with a focus on how race and class shape the country's and the world's fundamental structures. He was also a 2020 James Beard Award Finalist, a 2020 11th Hour Fellow at New America, and a 2018 recipient of the American Society of Magazine Editors' ASME Next Award.
About Rebecca Thiele Rebecca Thiele is the energy and environment reporter for Indiana Public Broadcasting — a collaboration of public radio and TV stations around the state. Though she covers several environmental issues in Indiana, she's particularly passionate about community pollution stories. That includes covering industrial chemicals linked to child cancers in Franklin, coal ash cleanup in Michigan City, and ongoing coverage of lead and arsenic-contaminated soil in East Chicago. Rebecca is currently working on a project answering audience questions about climate change and climate solutions.
____________________________________
About INconversation INconversation engages an intimate group in interesting and insightful conversations with some of the nation's most intriguing thought-leaders. This highly participatory question-and-answer style discussion involves the thought leader, a moderator and the audience. INconversation is a signature program of Indiana Humanities.
About Unearthed Unearthed is a multiyear thematic initiative from Indiana Humanities that encourages Hoosiers to discover and discuss their relationships with the natural world. Through engaging speakers, a statewide read, a tour of the Smithsonian's Water/Ways exhibit, Campfires treks, a film series, a podcast and more, Hoosiers will explore how we shape the environment and how the environment shapes us.
About Indiana Humanities Indiana Humanities connects people, opens minds and enriches lives by creating and facilitating programs that encourage Hoosiers to think, read and talk. www.IndianaHumanities.org
About WFYI Smart, loyal and committed like the very best of friends, WFYI is a nonprofit organization providing trusted news and quality entertainment for 50 years – educating and engaging the community. Known for quality programming throughout Central Indiana, WFYI Public Media provides more than just the standard radio and television services. WFYI has been involved as a community leader and partner in education, health, public affairs, and the arts since 1970.
About Indiana Public Broadcasting News Indiana Public Broadcasting News is an independent, nonprofit newsroom that provides in-depth, long-term coverage of vital issues facing the citizens of Indiana. IPB News has been in existence since 2015 and covers a range of topics across multiple reporting beats, including government and politics, health, environment and energy, labor and education. It distributes broadcast and digital reports to nine public media, NPR/PBS stations in Indiana and throughout the country for National Public Radio.
About the Indianapolis Public Library The Indianapolis Public Library enriches everyone and strengthens communities by inspiring lifelong learning.
____________________________________
ASL interpretation services will be available. If you need further accommodations, or have questions about accessibility, please contact Megan Telligman, director of programs, at mtelligman@indianahumanities.org.
Indiana Humanities takes photos and video at its events. These photos and video may appear on the Indiana Humanities website and in promotional materials. Your attendance at this event indicates your consent to have your image photographed, videotaped, and your permission to be interviewed, if appropriate.