A Conversation with IPS School Board Candidates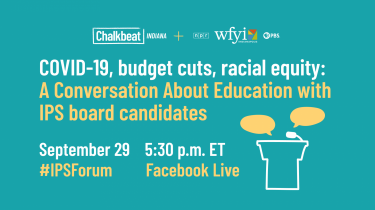 September 29, 2020

5:30 p.m. EST
Facebook Live
Register
Join Chalkbeat + WFYI as we talk COVID-19, budget cuts, racial equity, and more with IPS school board candidates.

Election season is upon us – don't miss the chance to hear from candidates vying to steer Indianapolis Public Schools.
Join Chalkbeat Indiana and WFYI for a virtual IPS school board candidate forum on September 29 at 5:30 p.m. via Facebook Live. Journalists will ask candidates about their stances on the school system's response to COVID-19, racial equity, innovation schools, and more. Read more about who is running and what's at stake here and here.
The event will be hosted virtually on Facebook Live. Please RSVP so you will have access to the live video.
Don't know which district you live in? Check out the map from the WFYI News team.
---
This event is hosted in partnership with Chalkbeat Indiana. Chalkbeat Indiana is a nonprofit news organization committed to covering one of the state's most important stories: the effort to improve schools for all children, especially those who have historically lacked access to a quality education.