Listen Up: The Great American Read with Andrew Luck and John Green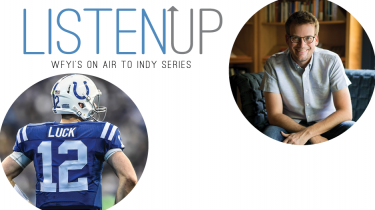 May 3, 2018
Doors at 5:15pm
Conversation begins at 6:15pm
Old National Centre
General Admission: $25 - $75
VIP Reception: $250
Get Tickets Here!
Thursday, May 3rd will be a special evening with two of our most famous Hoosiers. Colts Quarterback Andrew Luck will interview #1 New York Times bestselling author John Green about his novels, life in Indianapolis, and more. Green's latest novel, Turtles All the Way Down, is Andrew Luck's Book Club pick for May, and will be the main conversation piece for this Listen Up event. WFYI is proud to bring you this one-of-a-kind event that brings together football fans, avid readers, and public media supporters.
VIP EXPERIENCE - $250
• Reserved seating the first 4 rows during the Conversation
• A copy of Turtles all the Way Down, signed by Andrew Luck & John Green
• Meet & Greet Reception following the conversation with hors d'oeuvres, wine, & beer
• Photo Opportunity with Andrew Luck & John Green
CONVERSATION TICKETS - $25 or $75
Blue Level: $75
• Reserved seating assigned by row, in rows E - Q
• Commemorative bookplate
Orange Level: $25
• General admission seating in rows R - CC
Your ticket is more than just a one-of-a-kind experience, it supports public media in Indiana. A portion of your ticket will be a tax deductible gift.
WHAT IS THE GREAT AMERICAN READ?
A ground-breaking TV series and nationwide campaign, launching a national conversation about reading and a vote for America's best-loved book. Airing across the summer vacation, engaging a broad and diverse audience. Celebrities and everyday Americans champion their favorite novels and explain their personal connection to each book.
Don't forget to follow THE GREAT AMERICAN READ on Facebook for the latest details about the show and to learn when the book list will be revealed in the spring. Be sure to share with your friends and join the national conversation using #GreatReadPBS.
ABOUT THE SPEAKERS
ANDREW LUCK
Indianapolis Colts quarterback Andrew Luck is as comfortable in the library as he is on the football field. His love of books even prompted him to start his own book club in 2016, and now the Andrew Luck Book Club has found a home on WFYI Public Radio. Listen in to his podcast on the last Monday night of each month at 9 p.m. on 90.1 FM and on-demand on wfyi.org. You can visit www.andrewluckbookclub.com and see what books Andrew has selected as the book of the month.
JOHN GREEN
John Green is the award-winning, #1 bestselling author of Turtles All the Way Down, Looking for Alaska, An Abundance of Katherines, Paper Towns, Will Grayson, Will Grayson (with David Levithan), and The Fault in Our Stars. His many accolades include the Printz Medal, a Printz Honor, and the Edgar Award. John has twice been a finalist for the LA Times Book Prize and was selected by TIME magazine as one of the 100 Most Influential People in the World. With his brother, Hank, John is one half of the Vlogbrothers and co-created the online educational series CrashCourse. You can join the millions who follow him on Twitter and Instagram or visit him online at johngreenbooks.com. John lives with his family in Indianapolis, Indiana.