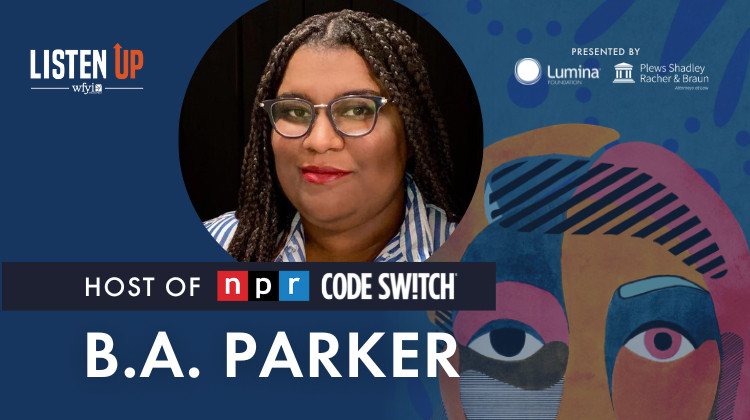 Culture, news and community – connected to you.
Listen Up with B.A. Parker
Get Tickets!
---
Date and Time
Tuesday, November 15, 2022 7:30 p.m. (ET)

---
About the Event
Join WFYI for an exclusive conversation with B.A. Parker, host of Code Switch: NPR's podcast on race and identity at Listen Up presented by Lumina Foundation and Plews Shadley Racher & Braun. WFYI invites you to join us on Tuesday, November 15 at 7:30 p.m. at the Indiana History Center in the Basile Theater. Parker will discuss her work on radio shows like This American Life, Invisibilia and Code Switch, and her career as a film professor. Be ready for topics ranging from Korean pop culture to house music's resurgence and well beyond! Code Switch airs on WFYI 90.1 FM on Sundays at 3 p.m.
BUY TICKETS

Want to meet our special guest? Purchase a VIP ticket that includes a reception from 6-7 p.m. in the Eli Lilly Hall at the Indiana History Center.
TICKET INFORMATION   
General Admission tickets include access to the event with open seating and audience Q&A for $20
VIP tickets include a meet and greet with Parker before the event from 6-7 p.m. in Eli Lilly Hall at the Indiana History Center with appetizers and drinks as well as reserved seating for the main event $40
 
BUY MY TICKET NOW
ABOUT B.A. PARKER
B.A. Parker is the new co-host of Code Switch on NPR. Her work can recently be heard on The Cut podcast with New York Magazine, where she was co-host and lead producer. In a previous life, Parker was a film professor at Morgan State University and Stevenson University, where she forced 19-year-olds to watch Point Break and Face/Off. She found her way to a production fellowship with the radio show This American Life, which she still can't believe happened. She's recently guest-hosted NPR's It's Been a Minute and has produced for NPR's Invisibilia, Gimlet's Heavyweight, and WNYC's Nancy. In 2019, she was selected for the Third Coast Radio Residency at Ragdale.
ABOUT CODE SWITCH
What's CODE SWITCH? It's the fearless conversations about race that you've been waiting for. Hosted by journalists of color, our podcast tackles the subject of race with empathy and humor. We explore how race affects every part of society — from politics and pop culture to history, food and everything in between. This podcast makes all of us part of the conversation — because we're all part of the story. Code Switch was named Apple Podcasts' first-ever Show of the Year in 2020.
---
Partners
7:30 p.m. Indiana History Center VIP Reception 6-7 p.m.
Get Tickets!