Listen Up with Jad Abumrad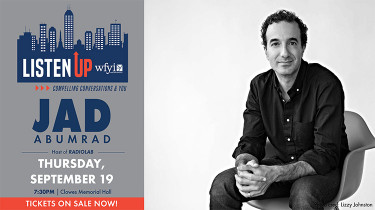 September 19, 2019

7:30 PM
Thursday, September 19
Clowes Memorial Hall
Get Tickets Now!
Tickets on sale now!
Join other public media fans in Indianapolis on Thursday, September 19 at Clowes Memorial Hall to hear from RADIOLAB's Jad Abumrad!
After 15 years of making "Radiolab" and, more recently, "More Perfect," Jad Abumrad found himself standing on a street corner, staring down at a manhole cover and thinking: indoor plumbing – of course! Join Jad as he deconstructs the process of finding and developing stories and creating new, original work. He'll unearth the hidden ingredients key to the stories that inspire, change and connect us all.
"Radiolab" can be heard on WFYI 90.1 FM on Fridays at 9 p.m. and Saturdays at 4 p.m. and wherever you listen to podcasts.
Here are our "Radiolab" Top Picks from WFYI staff:
---
Interested in hearing more from Jad? Check out the Q&A from the WFYI Insiders' Magazine! Click HERE to read now!
TICKET INFORMATION
Standard Ticket: $19 or $39
Reserved seat at the conversation
VIP Ticket: $100
Up-front seating for the conversation
Meet & Greet with Jad Abumrad, including drinks and hors d'oeuvres before the show at 6:00 PM
ABOUT JAD ABUMRAD
Jad Abumrad is the host and creator of Radiolab (radiolab.org), a public radio program broadcast on 524 stations across the nation and downloaded more than 9 million times a month as a podcast. Most days, Radiolab is the 2nd most popular podcast, just behind This American Life.
Jad Abumrad did most of his growing up in Tennessee, before studying creative writing and music composition at Oberlin College in Ohio. Following graduation, Abumrad wrote music for films, and repor ted and produced documentaries for a variety of local and national public radio programs.
In 2002, Abumrad began tinkering with an idea for a new kind of radio program, an open-ended radio "laboratory." Radiolab has since evolved into one of public radio's most popular programs. Abumrad hosts the program with Robert Krulwich and also serves as its lead producer, composer and managing editor.
Abumrad employs his dual backgrounds as composer and journalist to create what's been called "a new aesthetic" in broadcast journalism. He orchestrates dialogue, music, interviews and sound effects into compelling documentaries that draw listeners into investigations of otherwise intimidating topics, such as the nature of numbers, the evolution of altruism, or the legal foundation for the war on terror.
In 2010, Radiolab was awarded the prestigious George Foster Peabody Award and 2011 Abumrad was honored as a MacArthur Fellow (also known as the Genius Grant). The MacArthur Foundation website says: "Abumrad is inspiring boundless curiosity within a new generation of listeners and experimenting with sound to find ever more effective and entertaining ways to explain ideas and tell a story." In 2015 the Radiolab episode '60 Words' was awarded a George Foster Peabody Award. The Radiolab spinoff, More Perfect, a series about untold stories of the Supreme Court, is currently in its 2nd season. The New York Times called More Perfect "...possibly the most mesmerizing podcast." An album inspired by the show and titled 27: The Most Perfect Album has contributions by Dolly Parton, Devendra Banhart, Flor de Toloache and They Might Be Giants.
Alongside his radio work, Abumrad continues to work as a composer and remixer.
---
Listen Up is a series that brings public media personalities to Indianapolis for thought-provoking and inspiring conversation and storytelling.
---
Your ticket is more than just a one-of-a-kind experience, it supports public media in Indiana. A portion of your ticket will be a tax deductible gift. All proceeds benefit WFYI Public Media.