Listen Up with Marc Brown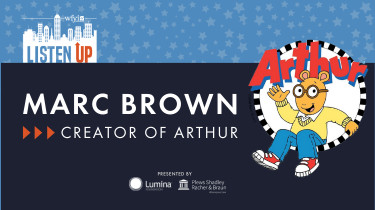 November 30, 2022

7:30 p.m.
The Athenaeum
VIP Reception 6-7 p.m.
Get Tickets!
Join WFYI for an exclusive conversation with Marc Brown, creator of Arthur, at Listen Up presented by Lumina Foundation and Plews Shadley Racher & Braun. WFYI invites you to join us on Wednesday, November 30 at 7:30 p.m. at the Athenaeum in the Basile Theatre. Brown will share insights about how he created the character Arthur, the impact of the show, and the jump from books to television.
This Listen Up is perfect for anyone with a passion for Arthur, including young viewers who would enjoy a seated event. WFYI parents recommend this event for kids in elementary and up.
Want to meet our special guest? Purchase a VIP ticket that includes a reception from 6-7 p.m. in the Basile Theatre.
TICKET INFORMATION   
General admission tickets include access to the event with open seating and audience Q&A for $20.
VIP tickets include a meet and greet with Marc Brown before the event from 6-7 p.m. in the Basile Theatre with appetizers and drinks, as well as reserved seating for the main event $40.
 
BUY MY TICKET NOW
ABOUT MARC BROWN
An affable aardvark named Arthur stars in many of Marc Brown's acclaimed children's books. The bespeckled character, whose adventures mirror the lives of young audiences from preschoolers to beginning readers, is the center of an empire that includes print and an Emmy-winning animated series now the longest running animated children's show in history.
The "Arthur" series grew from bedtime tales told by writer-illustrator Brown to his young son, Tolon. But why an aardvark? "All the bunnies and bears were taken," said Marc. The first "Arthur" story concerned the youngster's dismay over his prominent nose. "I just imagined being an aardvark and trying to play hide and seek and my nose getting in the way," Brown added. "I was making it up as I was going along. I like to find an issues that are important to kids. That's what I think I do best. I like using humor to focus on real subjects that kids are struggling with in their lives. I never dreamed where that little bedtime story would take me."
ABOUT ARTHUR
Arthur is an animated series aimed at viewers ages four to eight that had 25 seasons. The series finale aired in February 2022. Despite concluding after 25 years, the show will continue to have new content on PBS Kids, Arthur's podcast and on the video app! Arthur's goals are to help foster an interest in reading and writing, to encourage positive social skills, and to model age-appropriate problem-solving strategies.
Arthur chronicles the adventures of eight-year-old Arthur through engaging, emotional stories that explore issues faced by real kids. The series tells these stories from a kid's point of view without moralizing or talking down.