Listen Up with Marcus Samuelsson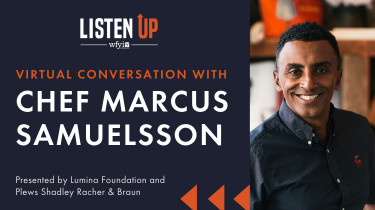 June 29, 2021

7 p.m. ET
Virtual Conversation
Crowdcast Platform
Registration for this event has now closed. If you registered but did not get the link to the event, please email us at events@wfyi.org. Thanks!
---
Join WFYI for Listen Up with Marcus Samuelsson presented by Lumina Foundation and Plews Shadley Racher & Braun for an evening of lively conversation including Q&A with the audience on Tuesday, June 29 at 7 p.m. ET.
Marcus Samuelsson, whose international life story, culinary skills, and joyful, inclusive approach to food can be seen in his PBS Food series, No Passport Required, is coming to Indianapolis — virtually. In a live virtual conversation, you can learn about his life — from his early years in Ethiopia to his childhood in Sweden to his quick rise in the culinary field — as well as his insights into how expanding our knowledge of food and culture builds connections and enriches lives.
TICKET INFORMATION
$25 Individual Ticket: Watching by yourself? This is the ticket for you to enjoy the event solo. Includes access to the conversation and Q&A from the audience.
$40 Watch Party Ticket: Watching with others? Here is how to watch with your crew. Includes access to the conversation and Q&A from the audience.
Ticket sales ended June 29 at 6:30 p.m
CROWDCAST INFORMATION
This event will be hosted on Crowdcast — all you need to view is an internet browser. It works best on Google Chrome but will also work on Firefox, Safari, Opera and Edge. If you want to join on your phone, for Android, Crowdcast can be used with Chrome for Android or Firefox for Android. On iOS, you can download the app or view in your favorite mobile browser.
When you join, you'll be asked to enter the event password, email address, and your first and last name. We recommend you use the same email you registered with for this event.
Need some help with Crowdcast or want to learn more? Read this overview.
The link for the event and password will be emailed to attendees on Tuesday, June 29 at 6 p.m. ET. If you purchased a ticket after 5:45 p.m., you will receive your link at 6:30 p.m. If you do not get the link by 6:45 p.m. ET, feel free to reach out to us via email at events@wfyi.org.
Questions or issues? Please email us at events@wfyi.org.
ABOUT MARCUS SAMUELSSON
Marcus Samuelsson is the acclaimed chef behind many restaurants worldwide including Red Rooster Harlem, Red Rooster Shoreditch, and Marcus B&P. Samuelsson was the youngest person to ever receive a three-star review from The New York Times and has won multiple James Beard Foundation Awards including Best Chef: New York City. He was tasked with planning and executing the Obama Administration's first State dinner honoring Indian Prime Minister Manmohan Singh.
Samuelsson was also crowned champion of television shows Top Chef Masters and Chopped All Stars, and served as a mentor on ABC's The Taste. Samuelsson's TV series titled No Passport Required with VOX/Eater and PBS debuted summer of 2018.
A committed philanthropist, Samuelsson co-produces the annual week-long festival Harlem EatUp!, which celebrates the food, art, and culture of Harlem and, during COVID-19, partnered with World Central Kitchen to provide meals to first responders and others in need. Samuelsson is co-chair of the board of directors for Careers through Culinary Arts Program (C-CAP). In May 2016, he was inducted into the James Beard Foundation Who's Who of Food and Beverage in America.
He is the author of multiple books including The New York Times bestselling memoir Yes, Chef, the young adult version-- Make It Messy, Marcus Off Duty cookbook, The Red Rooster Cookbook: The Story of Food and Hustle in Harlem, and his latest book The Rise: Black Cooks and the Soul of American Food. In addition, he is one of the founders of the website Food Republic.
Recent restaurant openings include: Red Rooster in Harlem, Miami and East London; Marcus B&P in Newark, New Jersey; Streetbird Express at the world-famous Madison Square Garden; Marcus in Montreal and New Jersey; Norda in Sweden; and Marc Burger in Chicago and California.
---
WFYI's Listen Up is a series that brings public media personalities to Indianapolis (virtually and in-person) for thought-provoking and inspiring conversation and storytelling. Tickets to this event support public media in Indiana.