Listen Up with Rick Steves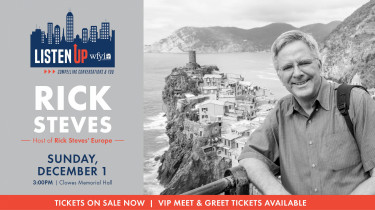 December 1, 2019

3:00 PM
VIP 2:00 PM
Sunday, December 1
Clowes Memorial Hall
Get Tickets Now!
WFYI is kicking off its next Listen Up series with public media legend, Rick Steves.
Join WFYI as we welcome travel expert Rick Steves for a lively evening of travel talk as he shares what excites and inspires him about Europe: from finding "back doors' to connecting with the locals. He'll explain how travel can be truly transformational and by traveling thoughtfully you can take home the greatest souvenir: a broader perspective. And recently back from filming in Guatemala and Ethiopia, he'll give a behind the scenes look at his new public television special about hunger, hope, and the impact of smart development aid in the Global South.
TICKET INFORMATION
Standard Ticket: $19 or $30
Reserved seat at the conversation
VIP tickets are now sold out.
We have another opportunity to meet Rick available- a special breakfast with only 30 spots available, click here to learn more.
ABOUT RICK STEVES
Guidebook author and travel TV host Rick Steves is America's most respected authority on European travel. Rick took his first trip to Europe in 1969, visiting piano factories with his father, a piano importer. As an 18-year-old, Rick began traveling on his own, funding his trips by teaching piano lessons. In 1976, he started his business, Rick Steves' Europe, which has grown from a one-man operation to a company with a staff of 100 full-time, well-travelled employees at its headquarters in Edmonds, Washington, near Seattle. There he produces a best-selling guidebook series on European travel, America's most popular travel series on public television, a weekly hour-long national public radio show, a weekly syndicated column, and free travel information available through his travel center and ricksteves.com. Rick Steves' Europe also runs a successful European tour program organizing small-group tours that take more than 30,000 travelers to Europe annually. His mission: to empower Americans to have European trips that are fun, affordable, and culturally broadening. When not on the road, Rick is active in his church and with advocacy groups focused on economic and social justice, drug policy reform, and ending hunger. Rick Steves lives and works in his hometown of Edmonds, Washington. His office window overlooks his old junior high school.