Listen Up with Terry Gross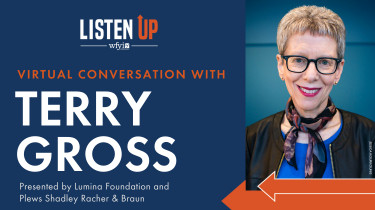 January 13, 2021

7 p.m. ET
Virtual Conversation
Crowdcast Platform
Registration for this event has now closed. If you registered but did not get the link to the event, please email us at events@wfyi.org. Thanks!
---
Kicking off the 2021 Listen Up speaker series, WFYI will connect local fans with the host of one of the most popular public radio shows, Terry Gross. The host and executive producer of Fresh Air is coming virtually to Indianapolis on January 13, 2021.
This special virtual event features Terry Gross, who's interviewing skills reveal the discoveries, inner lives and inspirations of interesting guests on Fresh Air, and on WFYI, each week day. WFYI will turn the tables this time, Indiana Public Broadcasting's Lauren Chapman will ask Terry about her own path, favorite interviews and secrets to helping guests open up with her and with our listeners.
Virtual seats are limited so act fast to reserve your seat.
General Admission Tickets include access to the event and audience Q&A: $30
VIP Tickets include access to the event PLUS a 30-minute post-event virtual reception with Terry to ask her questions and hear additional stories: $100
CROWDCAST INFORMATION
This event will be hosted on Crowdcast — all you need to view is an internet browser. It works best on Google Chrome but will also work on Firefox, Safari, Opera and Edge. If you want to join on your phone, for Android, Crowdcast can be used with Chrome for Android or Firefox for Android. On iOS, you can download the app or view in your favorite mobile browser.
When you join, you'll be asked to enter the event password, email address, and your first and last name. We recommend you use the same email you registered with for this event.
Need some help with Crowdcast or want to learn more? Read this overview and test your connection.
The link for the event and password will be emailed to attendees on Wednesday, January 13 at 6 p.m. ET. If you purchased a ticket after 5:45 p.m., you will recieve your link at 6:30 p.m. If you do not get the link by 6:45 p.m. ET, feel free to reach out to us via email at events@wfyi.org.
Questions or issues? Please email us at events@wfyi.org.
ABOUT TERRY GROSS
Combine an intelligent interviewer with a roster of guests that, according to the Chicago Tribune, would be prized by any talk-show host, and you're bound to get an interesting conversation. Fresh Air interviews, though, are in a category by themselves, distinguished by the unique approach of host and executive producer Terry Gross. "A remarkable blend of empathy and warmth, genuine curiosity and sharp intelligence," says the San Francisco Chronicle.
Gross began her radio career in 1973 at public radio station WBFO in Buffalo, New York. Two years later, she joined the staff of WHYY-FM in Philadelphia as producer and host of Fresh Air, then a local, daily interview and music program. In 1985, WHYY-FM launched a weekly half-hour edition of Fresh Air with Terry Gross, which was distributed nationally by NPR. Since 1987, a daily, one-hour national edition of Fresh Air has been produced by WHYY-FM. The program is broadcast on 566 stations. In 2003, Terry Gross received the Corporation for Public Broadcasting's Edward R. Murrow Award for her "outstanding contributions to public radio." Gross is the author of All I Did Was Ask: Conversations with Writers, Actors, Musicians and Artists, published by Hyperion in 2004.
---
WFYI's Listen Up is a series that brings public media personalities to Indianapolis for thought-provoking and inspiring conversation and storytelling. Donations made for this event support public media in Indiana.