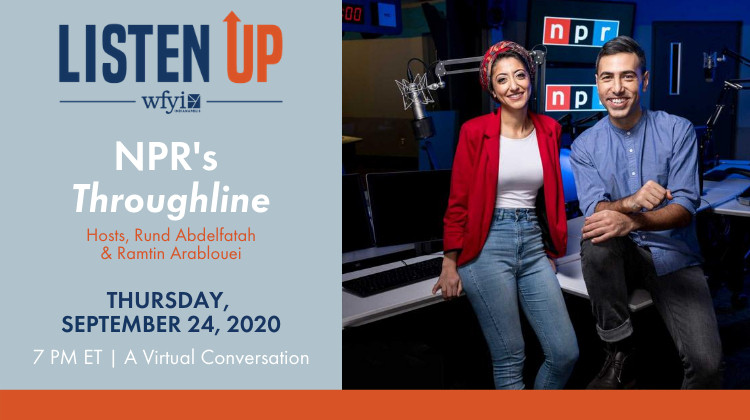 Culture, news and community – connected to you.
Listen Up with NPR's Throughline
---
Date and Time
Thursday, September 24, 2020 7 p.m. (ET)

---
About the Event
REGISTRATION FOR THIS EVENT HAS CLOSED
Please email events@wfyi.org with any questions.
---
The past is never past. Every headline has a history. This is what the hosts of NPR's Throughline discover weekly on their podcast. Join Rund Abdelfatah and Ramtin Arablouei for a live presentation of their podcast at Listen Up presented by Lumina Foundation and Plews Shadley Racher & Braun.
Rund and Ramtin will be sharing clips and discussing six different epiosdes:
American Police
The Mask
Conspiracy
There Will Be Bananas
The Litter Myth
Zombies
Throughline is available wherever you listen to podcasts.
TICKET INFORMATION
We have gone virtual and made this one free! Registration is required to receive the link to the event.
While this is virtual and free, our Listen Up tickets usually cost $25 and support our mission. We encourage you to consider making a donation to help support WFYI when you register for the event.
This event will be hosted on Crowdcast — all you need to view is an internet browser. It works best on Google Chrome but will also work on Firefox, Safari, Opera and Edge. If you want to join on your phone, for Android, Crowdcast can be used with Chrome for Android or Firefox for Android. On iOS, you can download the app or view in your favorite mobile browser.
When you join the event, you'll be asked for name, email address, and password for the event. We recommend you use the same email you registered with for this event.
Need some help with Crowdcast or want to learn more? Read this overview and a page to test your connection.
The link for the event and password will be emailed to registered guests only on Thursday, September 24 at 5 p.m. ET. Questions or issues? Please email us at events@wfyi.org.
ABOUT THE HOSTS
Rund Abdelfatah, co-host and producer, is responsible for all aspects of the podcast's production, including development of episode concepts, interviewing guests, and sound design. Abdelfatah joined NPR in 2014 as an intern and went on to become a producer on a number of NPR's most popular podcasts, including How I Built This, TED Radio Hour, NPR Politics Podcast, Code Switch, and Pop Culture Happy Hour.
Ramtin Arablouei, co-host and co-producer got his start at NPR in 2015 with a three-week contract to produce a pilot for How I Built This with Guy Raz, and now produces, reports, mixes, and writes music for such top-rated podcasts as TED Radio Hour, Hidden Brain, Embedded, Invisibilia, The Indicator, Code Switch, Radio Ambulante, and the Center for Investigative Reporting's Reveal.
---
WFYI's Listen Up is a series that brings public media personalities to Indianapolis for thought-provoking and inspiring conversation and storytelling. Donations made for this event support public media in Indiana.
---
Partners
7 p.m. ET A Virtual Conversation