Listen Up with Ari Shapiro and Susan Stamberg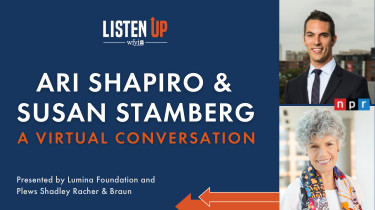 December 14, 2021

7 p.m. ET
Virtual Conversation
Crowdcast Platform
Buy Tickets Now!
Rounding out the 2021 Listen Up speaker series, WFYI will connect local fans with two dynamic voices of public radio: Ari Shapiro and Susan Stamberg. Be a part of this special virtual chat between the current co-host of All Things Considered and the past co-host who is one of NPR's "founding mothers" on December 14, 2021.
This special virtual Listen Up brings together Shapiro and Stamberg who will reveal insights into the past, present and future of public radio, covering five decades of NPR history. Listen Up presented by Lumina Foundation and Plews Shadley Racher and Braun brings public media personalities to Indianapolis for thought-provoking and inspiring conversation.
TICKET INFORMATION
Virtual tickets are limited so act fast to reserve your seat!
Individual Ticket includes access to the event and audience Q&A. Watching by yourself? This is the ticket for you: $25
Watch Party Ticket includes access to the event and audience Q&A. Watching with others? Here is the ticket for you to watch with your crew: $40
VIP Tickets include access to the event PLUS a post-event virtual reception with Ari and Susan to ask them questions and hear additional stories. Calling all superfans, this is the ticket for you: $75
Ari and Susan will be taking questions from the audience. Want to submit a question in advance? Head here to share it with us.
CROWDCAST INFORMATION
This event will be hosted on Crowdcast — all you need to view is an internet browser. It works best on Google Chrome but will also work on Firefox, Safari, Opera and Edge. If you want to join on your phone, for Android, Crowdcast can be used with Chrome for Android or Firefox for Android. On iOS, you can download the app or view in your favorite mobile browser.
When you join, you'll be asked to enter the event password, email address, and your first and last name. We recommend you use the same email you registered with for this event. The link for the event and password will be emailed to you on Tuesday, December 14 at 6 p.m. ET. If you do not get the link by 6:30 p.m. ET, please reach out to our event team at events@wfyi.org.
Need some help with Crowdcast or want to learn more? Read this overview and test your connection.
ABOUT ARI SHAPIRO
Ari Shapiro has been one of the hosts of All Things Considered, NPR's award-winning afternoon newsmagazine, since 2015. During his first two years on the program, listenership to All Things Considered grew at an unprecedented rate, with more people tuning in during a typical quarter-hour than any other program on the radio.
Shapiro has reported from above the Arctic Circle and aboard Air Force One. He has covered wars in Iraq, Ukraine and Israel, and he has filed stories from dozens of countries and most of the 50 states.
Shapiro was born in Fargo, North Dakota, and grew up in Portland, Oregon. He is a magna cum laude graduate of Yale. He began his journalism career as an intern for NPR Legal Affairs Correspondent Nina Totenberg.
ABOUT SUSAN STAMBERG
Nationally renowned broadcast journalist Susan Stamberg is a special correspondent for NPR.
Stamberg is the first woman to anchor a national nightly news program and has won every major award in broadcasting. She has been inducted into the Broadcasting Hall of Fame and the Radio Hall of Fame. An NPR "founding mother," Stamberg has been on staff since the network began in 1971.
Beginning in 1972, Stamberg served as co-host of NPR's award-winning newsmagazine All Things Considered for 14 years. She then hosted Weekend Edition Sunday, and now reports on cultural issues for Morning Edition and Weekend Edition Saturday.
One of the most popular broadcasters in public radio, Stamberg is well known for her conversational style, intelligence, and knack for finding an interesting story. Her interviewing has been called "fresh," "friendly, down-to-earth," and (by novelist E.L. Doctorow) "the closest thing to an enlightened humanist on the radio." Her thousands of interviews include conversations with Laura Bush, Billy Crystal, Rosa Parks, Dave Brubeck, and Luciano Pavarotti.