Vernon Jordan: Make It Plain Screening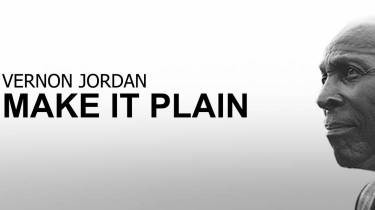 April 8, 2021

7:00 pm
via OVEE
Register
Registration for this event is required in order to recieve the link to the screening.
On Thursday, April 8th, join WFYI, The Indianapolis Urban League, UNCF - Indianapolis, The Indianapolis Public Library - CBLC, and DePauw University for a screening of "Vernon Jordan: Make it Plain", as we remember the life one of the most influential African American thought leaders in America.
"Vernon Jordan: Make It Plain" explores the life of Vernon Jordan and his rise from the segregated
South, his time spent at DePauw University, his tenure as the head of several civil rights organizations, and his most recently held position as a partner at a corporate law firm and financial behemoth, Lazard.
Through a series of interviews with Vernon Jordan, his family, business associates and friends, we learn just how he made this meteoric rise to power and fortune, and what sacrifices he made along the way. In revisiting his significant contributions to civil rights history and rise to prominent positions of influence, the film tells not only the story of Jordan's personal rise, but also explores just who we think of, and what we ask of, Civil Rights leaders.
This virtual screening will include a chat, so you can feel like we are in-person together. We invite you to share your thoughts, stories, and personal connections during this time. The screening will be hosted using OVEE, a web-based platform.
Thursday, April 8th
7:00 PM ET

---
"Vernon Jordan: Make It Plain" is a production of Trilogy Films LLC, presented by WETA Washington, D. C., directed by Dawn Porter, produced by Miriam Weintraub and Jennifer Oko. Executive Producer for WETA is Jeff Bieber. Major Funding for "Vernon Jordan: Make It Plain" was provided by the Ford Foundation and Ford Foundation/Just Films, and by the Andrew W. Mellon Foundation.