Nerds Go Back to School: Sewing & Make a Mask Class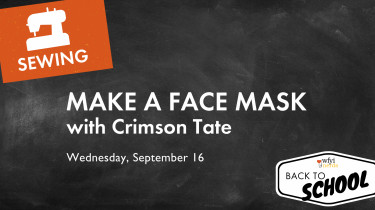 September 16, 2020

7 p.m. ET
A Virtual Class
Registration has now closed for this class. A email with the Zoom link has been sent to all registered guests. If you did not get the email, please contact us at events@wfyi.org.
---
Want to know how to rock the sewing machine? Don't have a clue what a feed dog is? Come hang out with Crimson Tate and learn the basics of sewing. Channel those home economics class vibes, you'll learn about the machine, how to read a pattern, and then create a face mask as your prized first creation!
Each student will need to either purchase the supplies from Crimson Tate or pull them together from your household.
The kits will contain:
Fabric to make two masks
Elastic to make two masks
Four wonder clips (to be used like straight pins)
The cost will be $5- click here to purchase.
Sign up now- space is limited!
ABOUT THE TEACHER
Heather Givans is a creative force; fabric store owner, fabric designer, quilt designer, national instructor, artist, and art educator. Heather creates community wherever she goes.
Crimson Tate :: Modern Quilter was born out of an obsession with creating non-traditional quilts from contemporary, modern, and repurposed vintage fabrics. Engineered by Heather Givans, Purdue University graduate of Art History, Art Education, and Fine Arts (Printmaking), Crimson Tate quilts are good design coupled with an attention to detail and craftsmanship.
NPR Life Kit
Each class is based on episode's of NPR's Life Kit series which was created to help everyone develop tools to help you get it together.
Listen now to learn about how to pick and wear a face mask.
---
Remember the school supplies trips? Getting excited for new classes and friends? We are diving into all the good things about school with our new series…the Nerds are going Back to School! Don't worry- all these classes will be virtual. We are starting easy with four classes- sign up for one or sign up for all. Not interested in this class or want to sign up for more? Head to our course listings.