Sunday Supper Cooking Class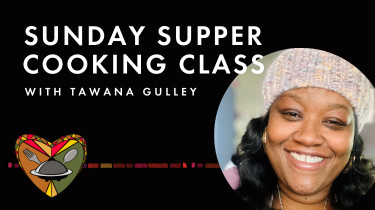 February 24, 2021

6:00 p.m.
Virtually via Zoom
Registration for this event has now closed. If you registered but did not get the link to the event, please email us at events@wfyi.org. Thanks!
---
Food has long played an integral role in the Black church experience. WFYI is partnering with Indy Women in Food to bring you a virtual cooking class with Tawana Gulley. We are making everyone's favorite...mac and cheese! Vegan substitutes will be provided.
How will it work?
Once you register for the class, you will get a shopping list and the tools you'll need to make the recipe. The class will be hosted on Zoom Webinar and a link will be sent an hour before the class. Tawana will walk us through the steps while we cook along with her. Once we pop the mac and cheese in the oven, we will watch clips from the new limited series produced by Henry Louis Gates, Jr. called The Black Church: This Is Our Story, This Is Our Song.
WFYI is exploring the structures, cultures, traditions and history of The Black Church in central Indiana. From food to architecture to fashion to history, we invite you to dive in with us. Learn about our Church Chats, Sacred Spaces, and more on our website. You might be interested in the recipes we are highlighting each week.
About Chef Tawana Gulley
Tawana's passion for delicious food, started in the kitchen with her mother and aunts. They taught her to love the art of cooking. When she is creating or reinventing a dish, I put my heart'n soul into it and you taste in every bite... a Healthy Soul filled meal that nourishes your mind body and soul. Head over to Tawana's website to learn about her restaurant and meal prep services: Black Bowe Bistro & Bakery and Healthy Soul.
---
Major corporate support for THE BLACK CHURCH: THIS IS OUR STORY, THIS IS OUR SONG is provided by Johnson & Johnson. Major support is also provided by Lilly Endowment Inc., Ford Foundation, and by the Corporation for Public Broadcasting, PBS and public television viewers.