"Harriet Tubman: Visions of Freedom" Screening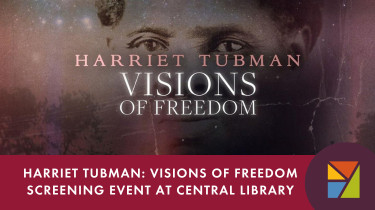 November 15, 2022

Central Library
40 E St. Clair St.
6:00 pm
Go beyond the legend and meet the inspiring woman who repeatedly risked her own life and freedom to liberate others from slavery. Born 200 years ago in Maryland, Harriet Tubman was a conductor of the Underground Railroad, a Civil War scout, nurse and spy, and one of the greatest freedom fighters in our nation's history.
Join WFYI and Central Library to learn about this remarkable woman Tuesday, November 15th, 6 p.m. at Central Library, as we view together a screening of the documentary film, Harriet Tubman: Visions of Freedom, produced by Maryland Public Televion and airing on PBS this fall.
This event is made possible through grant funding from Maryland Public Television.