RESCHEDULED: WFYI News & Brews Pub Trivia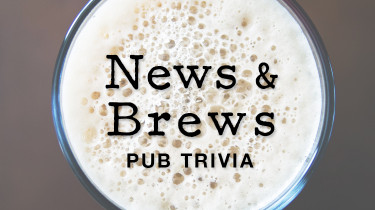 February 26, 2018
7:00 - 9:00 pm
Sun King Brewery - Downtown
135 North College Avenue
**AT CAPACITY**
Waitlist
**DUE TO UNFORSEEN CIRCUMSTANCES, WFYI NEWS AND BREWS HAS BEEN RESCHEDULED FOR MONDAY, FEBRUARY 26th. ATTENDEES, CHECK YOUR E-MAIL FOR ADDITIONAL DETAILS.**
EVENT IS CURRENTLY AT CAPACITY. AS IS SUCH, WE ARE NO LONGER ABLE TO ACCEPT RESERVATIONS AT THIS TIME.
We hope to see you at the next WFYI News and Brews event, Monday, June 19, 2018. Check back at wfyi.org/events for more details and to register.
Need to make changes to an existing registration? Let us know.
---
Are you always up on the latest news and current events? Do you find yourself always saying the phrase, "I heard on NPR..."? Well, it's time to put that knowledge to use!
Join WFYI for 'News & Brews: Current Events Pub Trivia Night'. Grab your friends, register a team, and brush up on your current events by listening to WFYI 90.1 for your chance to win some amazing Sun King and WFYI prizes. Matt Pelsor, WFYI's local "All Things Considered" announcer, will be hosting the event.
This event is FREE to attend. Drinks and food are the responsibility of the attendees.
Team check-in begins at 6:30 pm, with programming beginning by 7:00. Due to overwhelming interest in WFYI News and Brews, team pre-registation is REQUIRED.
Free parking is available in the Sun King lot and on the streets around the brewery. They also offer abundant bicycle parking. In addition, Several IndyGo routes stop within walking distance of Sun King. Visit IndyGo.net to plan your trip.
Teams of all sizes are welcome, though space is limited. RSVPs required.
Follow along and share your excitement on social media using #WFYINewsBrews.