WFYI Trivia Night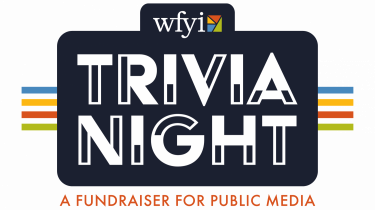 March 6, 2020

7:00 PM
The Pavilion at Pan Am
Downtown Indy
Get Tickets Now!
It's time to channel your inner nerd! Share the knowledge you've gained by listening to NPR and watching PBS over the years at WFYI's new signature event, Trivia Night. All those times you've said "Well I heard on NPR" or rattled off a fact about an obscure painting from your favorite Antiques Roadshow to friends will propel you to victory at this evening full of trivia and fun.
---
Friday, March 6, 2020
7:00 PM
The Pavilion at Pan Am
201 S Capitol Ave, Indianapolis, IN 46225
---
Trivia will be general knowledge (knowing public media will pay off though!) and will consist of three rounds. Teams will be able to bid on WFYI journalists and reporters to help you get ahead. Prizes will be awarded for first, second, and third place as well as best team name. Between rounds enjoy entertainment from the stage, take your chance on the prize wheel, prize punch, and raffle!
TICKETS
General admission ticket: $125 per person includes
Entrance to the event and trivia
Drink tickets
Hors d'oeuvres
Support Public Media in central Indiana
TABLES

Interested in the VIP experience? Snag a table before they are all gone! VIP reception begins at 6:00 pm with unlimited beer and wine plus meet WFYI journalists and reporters and the hosts for the evening. Get a feel of who you will want to bid on to help you in your trivia game.
Wait Wait Table: $1000
Don't wait on this table of 6 seats with 2 tickets to the VIP reception
Won't You Be my Neighbor Table: $2000
Be our neighbor with a table of 8 seats and 2 tickets to the VIP recpetion
Includes name/logo recognition on table and promotion at the event
All IN Table: $3500
This table is All IN with a table of 8 guests who receive access to the VIP reception
Includes name/logo recognition on table and promotion at the event
Your ticket is more than just a one-of-a-kind experience, it supports public media in Indiana.