Ice Miller Wine Fest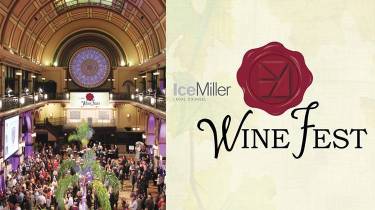 March 6, 2015

6 p.m. - 9 p.m.
Historic Union Station at the Crowne Plaza
123 West Louisiana Street
Indianapolis, IN 46225
Join WFYI Public Media for the 16th Annual Ice Miller Wine Fest for a memorable evening of fine wine tasting, stimulating conversation and entertaining festivities at one of Indianapolis' premier historic destinations. This year's Ice Miller Wine Fest will showcase a prestigious selection of international, national and Indiana vintages. Hurry, tickets are limited! Proceeds from the event will benefit WFYI Public Media's programs and lifelong learning services.
TICKET INFORMATION
Main Tasting Floor Tickets: $60 | Connoisseur Tickets: $120

*****Main Tasting Floor and Connoisseur Tickets are SOLD OUT online.*****

A limited number of tickets are available at Kahn's Fine Wines & Spirits.

Connoisseur ticket holders receive exclusive balcony access with
specialty wines and foods only available in the Connoisseur Area.
PARKING
Entrance to the Crowne Plaza at Union Station is available at South Illinois Street
Please note that limited, hourly parking will be available in the Pan Am Plaza Garage. Additional paid parking optoins can be found in the Circle Center Mall's Sun Garage (entrances on Washington and Maryland streets) or at www.indydt.com/parking.cfm.
RAFFLE
The Ice Miller Wine Fest Raffle is back and better than ever!
Take a chance at 22 great prizes valued at nearly $7000.00! Tickets are $5 each or get your height in tickets for just $20!
Complete list of raffle prizes
WINE LIST
Order wine and help WFYI further its mission
Twenty-five percent of the profits from wines ordered during the Ice Miller Wine Fest will go to WFYI. As you find wines you love, why not place an order? It's easy. You'll find Wine Order Forms throughout the Grand Hall, or ask a volunteer. You can also download a copy of the list at the link below. Complete the form and return it to the Kahn's Fine Wines & Spirits table located just outside the bar.
EVENT GALLERY