Martin Falbisoner/CC-BY-SA-3.0
The White House has revealed its 2018 budget proposal and it calls for eliminating all funding to the Corporation for Public Broadcasting (CPB), which would be a devastating blow to public media stations all over the country. Public broadcasters, including WFYI, will be rallying support and making their case with federal legislators over the ensuing months until the 2018 FY budget is likely voted on in the fall. Until then, we can take comfort in the support received in May when Congress approved and President Trump signed the Omnibus Appropriations bill confirming funding for the remainder of Fiscal Year 2017, which ends on September 30.
The legislative action provides full funding for the CPB for only FY 2017 and includes $445 million for the CPB, which benefits from the two-year advance funding system, and $50 million for the new public media interconnection delivery system. The bill also provides level funding of $25.7 million for Ready To Learn, a program that improves math and literacy skills of young children. In a year of considerable political and budgetary challenge, this bipartisan endorsement of public television's work is nothing less than extraordinary.
Despite this short-term victory, we are still in need of your support. Please read below for facts about the CPB, WFYI and public media in general, and click here to learn about ways you can help.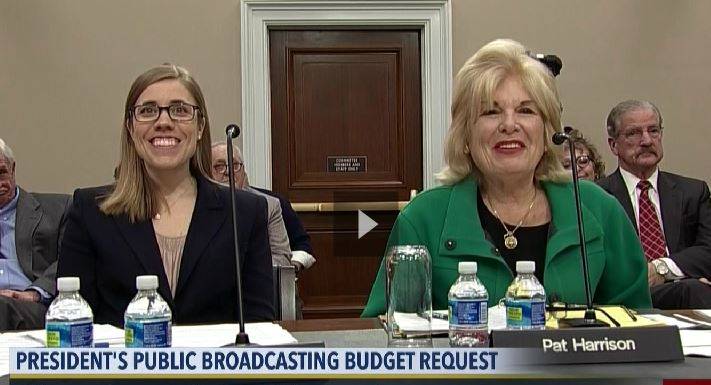 On Tuesday, March 28, CPB CEO Pat Harrison testified before a special hearing of the House Appropriations Subcommittee chaired by Oklahoma Republican Tom Cole. Pat was the hearing's only witness and she outlined a compelling case for continuation of the annual congressional appropriation to stations. Chairman Cole and other members of the subcommittee endorsed her comments. Pat's Harrison's full statement is available here.
FAQs
Why does public broadcasting need federal funding?
Federal funding is essential to the funding mix that supports public broadcasting, providing money for basic operations for many local stations. On average, stations leverage each $1 of federal funding to raise over $6 from local sources — a tremendous return on the taxpayer investment.
In general, it is public broadcasting's mission to ensure universal access to high-quality, non-commercial programming that educates, informs, enlightens and enriches the public, with a particular focus on the needs of underserved audiences, including children and people in need. In many rural areas, public broadcasting is the only source of free local, national and international news, public affairs and cultural programming. Without funding, many stations would likely be unable to continue to provide local communities with this programming.
In addition, the CPB helps negotiate music rights for all public stations and provides administrative support, allowing stations to aggregate together for cost-effective sharing of information, research and services. How Can I Help?
What is the CPB's role in public broadcasting?
The CPB is distinct from both National Public Radio (NPR) and the Public Broadcasting Service (PBS). It is not a broadcaster, but a private corporation created by Congress in 1967 with two primary functions:
Serve as a firewall between partisan politics and public broadcasting
Help fund programming, stations and technology
How much funding is appropriated to the CPB?
Annual funding for the CPB has been level at $445 million for several years. That amounts to about $1.35 per American per year and that represents 0.01 percent (one one-hundredth of one percent) of the federal budget.

How much CPB funding does WFYI receive?
This year, approximately 13 percent of WFYI's budgeted revenue will come from the CPB. We are fortunate to have a wide variety of revenue sources, which breaks down like this:

America's Public Television Stations' Pat Butler makes the case for continued federal funding.
Speech text online here.
Individuals – 36%
Local businesses – 21%
Grants and other support – 14%
Federal funding – 13%
Miscellaneous – 7%
State funding - 5%
Special events – 3%
What would happen if WFYI lost CPB funding?
Losing CPB funds would have a noticeable effect on our ability to serve the community with local news and public affairs programming as well as in other areas of our operations. How Can I Help?

If changes are made to the current funding system, when would they take place?
That's hard to say. However, funding for 2017 has already been distributed to the CPB, and first payments have been made to stations, including WFYI. The appropriation for the CPB is booked two years in advance, so funding has been allocated for 2018 and 2019, but has not yet been distributed. Technically, these appropriations could be rescinded, but it would take an act of Congress to make that happen.

What happened the last time a bill to reduce public broadcasting funding came before Congress?
In 2015, a bill to reduce CPB funding was introduced and was soundly rejected on a bipartisan basis 294-132.

How does the public feel about government support for public media?
A just-completed national survey of 1,001 registered voters by a bipartisan polling team of Hart Research Associates and American Viewpoint revealed strong support for funding public broadcasting (overall margin for error is +/- 3.1 percent). Among the findings:
73% of voters are against eliminating federal funding for public television
83% of voters (including 70% of Trump supporters) would tell their U.S. senator or congressperson to find savings somewhere other than public television funding
2 in 3 voters think it is very or fairly important for America to have a strong public television system
3 in 4 voters want federal funding for public television increased or maintained at current levels.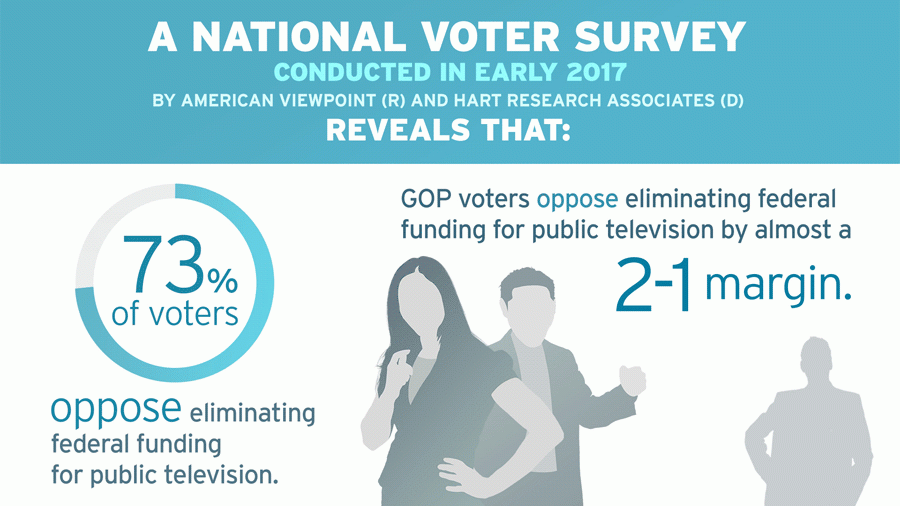 Why does the public support public media so passionately?
There is one word that summarizes the reason so many people support public media: trust. A nationwide study just concluded that PBS and its member stations are America's most trusted nationally known media institution – for the 14th consecutive year! In addition, the same survey found that parents rank PBS KIDS as the #1 educational media brand in the country. That's a tremendous vote of support that's hard to ignore. How Can I Help?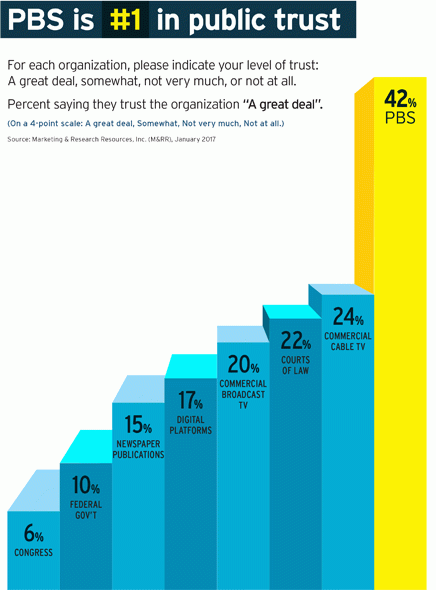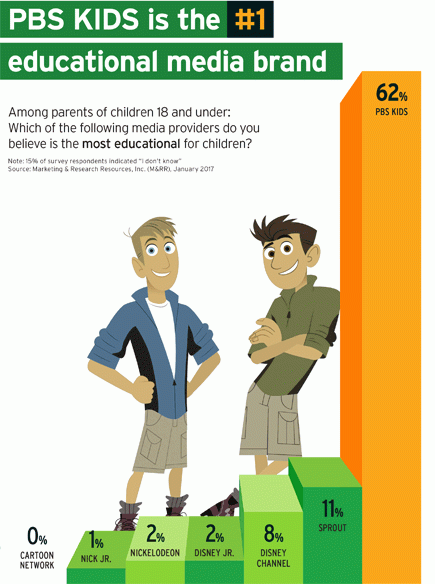 | | | |
| --- | --- | --- |
| | | A strong, diverse base of grassroots advocates is essential to ensuring the retention of federal funding. One entity formed to unify that support is Protect My Public Media, a collaboration of local public radio and TV stations, program producers and distributors, listeners and viewers who support a strong public media in the United States. You can help by sharing your testimonial here — they will be used as a resource when meeting with policy makers in the coming months. |
You can also spread the word on social media.

Click here to download a set of graphics you can share on social media about the value of PBS.



Thank you for all you're doing to keep public media going strong!