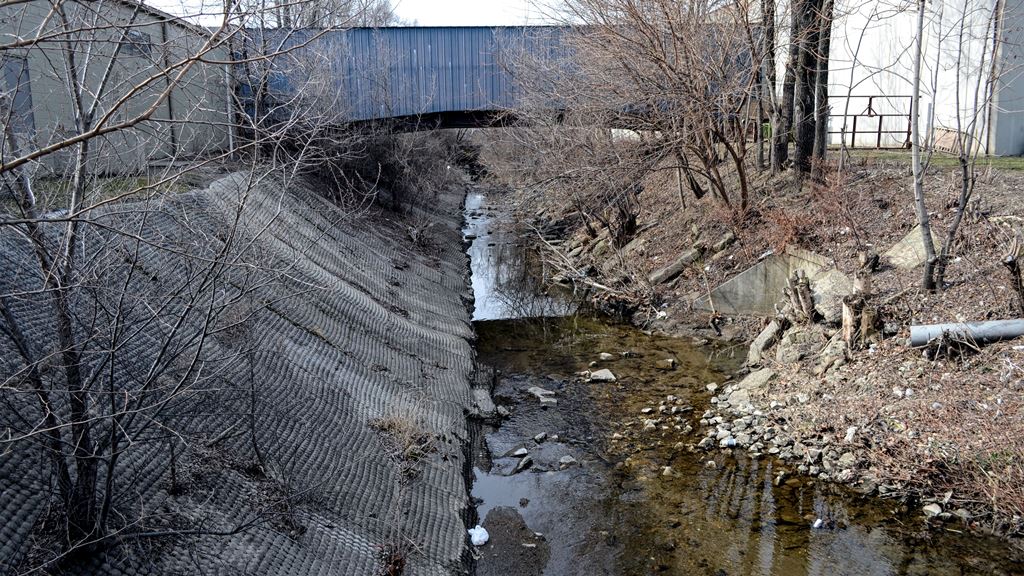 Ryan Delaney/WFYI
INDIANAPOLIS -- We have an answer to a question we received through Curious Indy. Someone wanted to know why Pogue's Run creek is buried underground once it reaches downtown. So WFYI went exploring to find out.
From an overpass on Vermont Street over Pogue's Run on the Near Eastside, the downtown skyscrapers are visible not far away, but the creek runs a little bit farther down.
It's just before New York Street where Pogue's Run looks like it gets swallowed up under a parking lot, not to be seen again. The large concrete culvert is not very pretty to look at. There's a fence around the creek and a lot of trash on the banks. And a sign that warns not to enter.
"In 1914 and 1915, they took it from an open stream to a tunnel system, or basically just a large sewer," Joan Hostetler told WFYI. She's a local historian who happens to live not far from a part of Pogue's Run that's still visible.
---
Submit your own question to Curious Indy or select the next one we answer
---
"It's primarily for several reasons," Hostetler said. "Number one, it really flooded downtown."
Hostetler says around the turn of the 20th century, the creek was seen as an obstacle, getting in the way of city planner's outline of the Mile City.
The Encyclopedia of Indianapolis gives this concise explanation:
In 1914, the city ran the portion of the stream inside the Mile Square into the storm sewers, finally making it possible for continuous platting of the area.
Along with the flooding, it also smelled of raw sewage. "It would stink horribly, which it still does a little bit," said Hostetler.
Finally city planners worked out agreements with the local railroad companies and raised enough money to do something about it. A giant steam shovel dug and dug for over a year, using some pretty advanced construction methods for the time.
According to the January 1915 issue of Municipal Engineering, the work was contracted to cost $907,000.
Source: Indiana Historical Society
Source: Municipal Engineering
Now the creek snakes through a tunnel underground, below streets and railroads, beneath Lucas Oil Stadium, before emptying into the White River. It follows a combination of its original path and some variations to align with the sewer system.
We found some old property maps from 1887 that show the creeks path before it was buried. We lined those up with modern-day satellite images.


Contact Ryan: 317.489.4491 | rdelaney@wfyi.org | @rpatrickdelaney