The state's unemployment rate fell to 7.5 percent in October – a full percentage point lower than it was just three months ago.
Gov. Mike Pence called the improvement a "testament to the resilience of the hard-working people of Indiana, the businesses of our state and the policies that we have been embracing during these difficult times."
"Indiana's pro-growth policies of fiscal responsibility, lower taxes and less red tape are giving Hoosier businesses the confidence to grow and attracting new investment and jobs to our state," he said. "Our progress in education and workforce is attracting renewed interest in investment in Indiana. Because of our efforts, Indiana's private sector job growth continues to significantly outpace the national average."
Still, Indiana's unemployment rate remained higher in October than the national rate of 7.3 but equal to or lower than most of its neighbors' rates.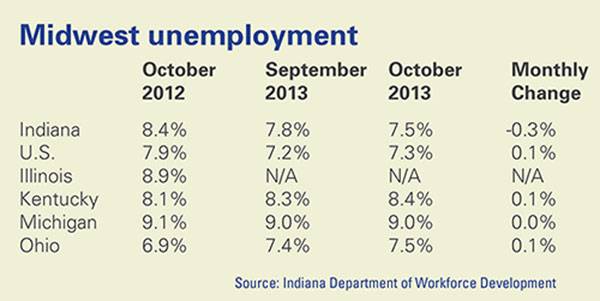 Private sector employment in Indiana grew by 6,600 jobs in October, with gains concentrated in the manufacturing, construction and private educational and health services.
And at 8.5 percent, Indiana's rate of private sector growth has continued to significantly outpace the national average of 6.5 percent since July 2009, the low point of employment in Indiana.
"Indiana's unemployment rate is more than one percentage point below where it was in January, which is definitely significant" said Scott Sanders, commissioner of the Indiana Department of Workforce Development. "The steady private sector job growth the Hoosier state has been experiencing for some time now is finally beginning to be reflected in the unemployment rate, which many businesses and individuals rely on to make important economic decisions."
The number of unemployed Hoosiers has also dropped by more than 27,000 during the past three months, while Indiana's labor force has grown by 6,000. Claims for unemployment insurance this year remain at their lowest levels since 2000.
"Despite today's encouraging news, there are still far too many Hoosiers struggling in this economy, and we cannot afford to let up in our effort to make Indiana even more attractive for investment and jobs," Pence said.
Pence and legislative leaders say they intend to focus on job- and economic development-related issues during the upcoming session of the General Assembly.