Nina Mason Pulliam Charitable Trust - Testimonial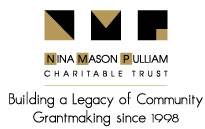 Nina Mason Pulliam (1906-1997) was a journalist, business leader and humanitarian. She helped her husband, Eugene C. Pulliam, build Central Newspapers Inc., whose holdings included The Indianapolis Star and The Arizona Republic, into one of the nation's leading newspaper publishing companies. Upon her death, Nina left a charitable trust to help people in need, protect animals and nature and to enrich community life in her home states of Indiana and Arizona. Since 1998, the Trust has awarded more than $107 million to 451 nonprofit organizations in Indiana, primarily in Indianapolis.
The Nina Mason Pulliam Charitable Trust is a proud sponsor of WFYI because it is an important part of our community life in Indiana. "The commons" was what villages once called the public pasture in the center of town where information was shared. Indiana's WFYI is our public broadcasting "commons." More information at http://www.ninapulliamtrust.org/.