OneAmerica Financial Partners, Inc. - Testimonial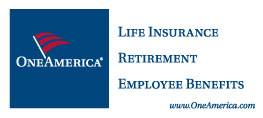 About OneAmerica®
A national leader in the insurance and financial services marketplace for nearly 140 years, the companies of OneAmerica help customers build and protect their financial futures.
OneAmerica offers a variety of products and services to serve the financial needs of their policyholders and customers. These products include retirement plan products and recordkeeping services, individual life insurance, annuities, asset based long-term care solutions and employee benefit plan products.
Products are issued and underwritten by the companies of OneAmerica and distributed through a nationwide network of employees, agents, brokers and other sources that are committed to providing value to our customers.
Headquartered in downtown Indianapolis, the companies of OneAmerica, and our nationwide network of financial professionals, provide a full line of retirement, life insurance and employee benefits products and award-winning service for millions of Americans. We're proud of our Hoosier roots and proud to support WFYI. To learn more about our products, services and the companies of OneAmerica, visit https://www.oneamerica.com/.