Local educator named a digital innovator by PBS LearningMedia
April 14, 2014 - Tricia Schug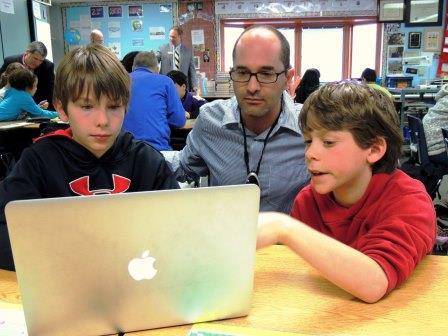 When Indianapolis teacher Steve Auslander began teaching 12 years ago, he knew little about technology. Now, using technology is a core element of his 5th grade instruction at Allisonville Elementary School in Washington Township School District.
Auslander was rewarded last month by PBS Learning Media for his leadership and innovation in education technology. He was one of 100 educators across the country selected for the 2014 PBS Learning Media Digital Innovators program.
"I'm really excited about this award," he says. "Integrating technology into the classroom is important because it's not the future; it's the present."
For his 5th graders, technology use is an everyday thing, so Auslander decided to capitalize on that. "I wanted students to use devices to show what they know in new ways," he says.
The township has a BYOD policy (Bring Your Own Device), and all his students have devices of their own to use in the classroom. There are rules, of course, set by the school, and also by Auslander, to make sure students use technology appropriately and safely.
"Mostly students use technology for creating and connecting," Auslander says. For instance, students read a book and create a book report, and they may also create a character through online applications that further explains the story. "Basically, they use the app to show their understanding of the story in creative ways."
In his classroom, students also write for a kid blog and use social media platforms designed for schools. Additionally, Auslander creates most of their homework through video tutorials embedded with pop-quiz questions.
When his students didn't like how a particular feature of Edpuzzle worked, the video platform Auslander uses for his tutorials, the class connected with the Edpuzzle creator via Skype and suggested changes. The creator made their recommended changes to the product within a week. "It was a good way for the kids to experience how their voices can be heard and valued," he notes.
The class will get another chance to be heard on April 18, when they travel to Indiana University in Bloomington and present to a classroom of freshmen Education majors their perspectives on technology and its use in their classroom. "It's one thing for college students to hear about technology from their professors, but this is a chance for them to learn from our students as well," says Auslander. "It is very exciting for all of us."
As a PBS Learning Media Digital Innovator, Auslander will participate in year-long professional development trainings, and will have access to premium and exclusive resources. Learn more about PBS Learning Media at pbslearningmedia.org.