PNC Financial Services Group, Inc. - Testimonials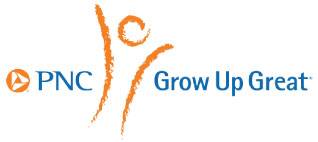 The PNC Financial Services Group focuses the power of the company around Grow Up Great, its $350 million, multi-year, bilingual initiative that began in 2004 to help prepare children from birth to age 5 for success in school and life. To date, the program has served more than 2 million children.
To help direct the initiative, PNC Grow Up Great has partnered with some of the nation's most highly respected early childhood experts and nonprofit organizations to establish school readiness programs in math, science, the arts and financial education.
Additionally, PNC encourages employee involvement through a progressive policy that permits up to 40 hours a year of paid time off for volunteerism. In the last nine years, more than 42,000 PNC employees have volunteered approximately 447,000 hours at early childhood education centers. Employees
have donated more than 626,000 items for use in classrooms or for the personal well-being of preschool children. PNC is a proud supporter of WFYI and title sponsor of PBS Kids in the Park, a signature summer event in Indianapolis for families with young children. More information on PNC at https://www.pnc.com/en/personal-banking.html and PNC Grow Up Great at https://www.pnc.com/grow-up-great.