The Splendid Table's Turkey Confidential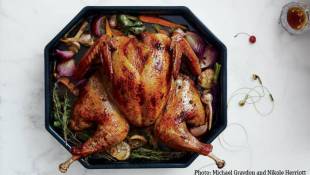 Overwhelmed with preparing a full Thanksgiving dinner? Don't worry. Take a deep breath, and tune into 90.1 WFYI Public Radio!
A Thanksgiving tradition for many, "Turkey Confidential" helps cooks, kitchen helpers and dinner guests on the biggest cooking day of the year. Join the award-winning host of "The Splendid Table," Lynne Rossetto Kasper, from 12 p.m. - 2 p.m. as she answers your questions with wit, expertise, and laughter.
This year, Lynn will be joined by a wonderful group of guests: award-winning chef and TV host Andrew Zimmern; one of the world's most famous cooking teachers, Jacques Pépin; food enthusiast, television personality, and journalist, Nigella Lawson; and the founder of Storycorps, Dave Isay.
Phone lines will be open nationwide from 12 p.m. - 2 p.m. and the program will be simulcast live on the Web at splendidtable.org. Call in your questions at 1-800-242-2828. You can also interact with the show via Twitter and Facebook, as well as play Turkey Confidential Bingo along with the folks in the control room.