October Radio Schedule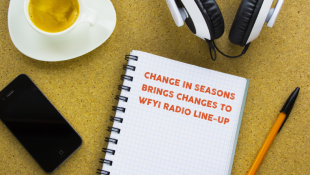 Beginning October 7, exciting new programs will debut on WFYI 90.1 FM. "Planet Money," a Peabody award-winning program that explains the economy through playful storytelling, and "How I Built This" with Guy Raz, which features some of the country's most notable entrepreneurs and innovators, will run each Saturday from 10 a.m. to 11 a.m. "Wait Wait…Don't Tell Me!" debuts in its new 11 a.m. timeslot, filling the hour previously held by long-running show "Car Talk," which is no longer in production.
Other adjustments to the Saturday line-up look like this:
Noon TED Radio Hour
1 p.m. This American Life
2 p.m. Snap Judgment
3 p.m. The Moth Radio Hour
Sunday's line-up is also being adjusted to make room for up-and-coming new programs like puzzle show "Ask Me Another;" news and culture show "It's Been a Minute" with Sam Sanders; and health and science program "The Pulse." "A Prairie Home Companion" moves from 10 a.m. to 8 p.m., so the Sunday rundown will look like this:
10 a.m. A Way with Words
11 a.m. Ask Me Another
Noon Wait Wait…Don't Tell Me!
1 p.m. Live Wire Radio
2 p.m. It's Been a Minute
3 p.m. The Pulse
8 p.m. A Prairie Home Companion

Additionally, BBC News will replace "On Point" on weekdays beginning at 11 p.m. Click here to download a pdf of the full updated schedule.