Most Recent
Public Affairs / March 7, 2014
Indianapolis residents are hearing what a $350 million plan to fix the city's roads, sidewalks and other infrastructure needs would look like. Mayor Greg Ballard held the first of about a dozen public meetings on the proposal called RebuildIndy 2.

Read More
RECENT COMMENTS
Other Recent Stories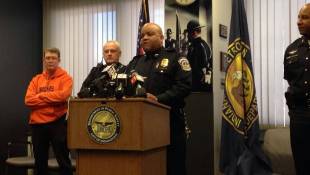 Local News / March 6, 2014
A 27-year-old man is dead after a shootout with Indianapolis Police. Officials say Andrew Sizemore fired multiple rounds at an IMPD SWAT Team that was serving a search warrant on the southeast side. He was killed, but injured four officers. Sizemore saw them approaching by using a surveillance cameras on the outside of the house.

Read More
Local News / March 6, 2014
The bill requires police to obtain a search warrant before using a phone to track a person's location or using an unmanned device – such as a drone – to gather information in most situations. It also requires police to get a warrant before officers can demand that a person turns over his or her password for a computer, phone or other electronics device.
Read More