WFYI "Bright By Text"
A Text Messaging Service for Caregivers of Young Children

Información en Español

Are you a parent? Grandparent? Aunt or Uncle? Babysitter? Do you have a young child in your life?
Welcome to WFYI's free text messaging service, "Bright By Text." This service is for parents and adults who care for young children newborn through age 5. When you register for the service using your child's birthdate, direct text messages will provide developmentally appropriate information, activities, and more from trusted national and local resources.
The messages will offer information on health and safety, early literacy, nutrition and other topics, and also include URLs linking users to more in-depth information and helpful videos.
Users will receive no more than four messages per week per registered child and can opt out at any time. Each message contains age-appropriate information based on the child's birthdate used during registration.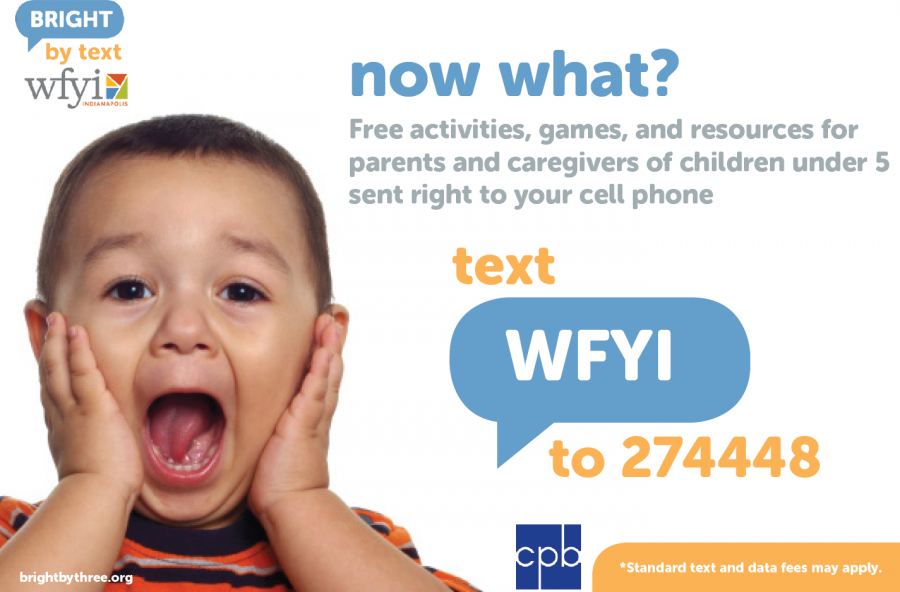 To get started, text code word "WFYI" to 274448*.
Service is available in English and in Spanish.
Local messaging provided by:
*Message and Data Rates May Apply. Text STOP to 274448 to STOP. Text HELP to 274448 for HELP. For more information, see the Full Terms and Privacy Policy.
Funding for Bright by Text provided by: