WFYI Members Magazine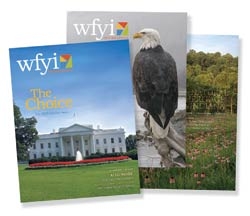 Much more than a complete listing of WFYI television and radio programming, the WFYI Members Magazine is your monthly entrée to detailed information for WFYI TV and radio programs, articles from WFYI Learning Services, membership news, volunteer profiles and opportunities, and special event information. Get connected to your community and WFYI with the WFYI Members Magazine.
By contributing $60 or more to WFYI, you will receive a full year's subscription to the WFYI Members Magazine.
If you'd like to find out more before contributing, feel free to request a complimentary copy of this magazine by emailing Member Services. Please also provide your complete name, address and preferred email address.