Compadre Huashayo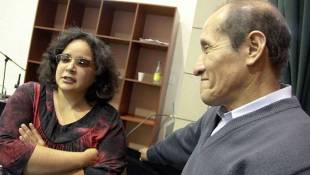 What happens when Grammy award-winning, western classical composer Gabriela Frank takes a traditional Western composition and creates it for traditional Latin American instruments – the horn section replaced by a host of pan flutes; charangas and bandolins in place of violins? The result is "Compadre Huashayo," a lively and intriguing cultural blend of tone and style.
WFYI producer Aric Hartvig was there in Quito, Ecuador to film the world premiere of this work played by Ecuador's Orchestria de Instrumentos Andinos. "Compadre Huashayo" is the first western classical composition ever designed for South America's native instrumentation.
Follow the story of how this custom-designed classical composition came to be. Meet Frank, who composed a special orchestral work for the Indianapolis Symphony Orchestra, and whose self-described mestiza (half-breed) style of music blends her United States roots and training with her South American heritage. And meet the people of Ecuador, their country, and their music, as this blend of cultures comes to life.
Compadre Huashayo: The Story Behind the Music
Performance of Compadre Huashayo - Quito Ecuador, 2012