Naturally Indiana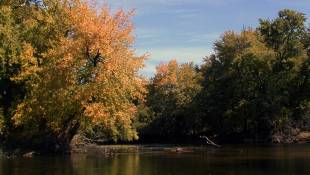 Host Michael Atwood will lead viewers on a breathtaking tour of Indiana's state parks, nature preserves, and other natural wonders that make the Hoosier landscape so unique.
Set against a backdrop of changing seasons, "Naturally Indiana" is a spectacular journey through the state's four major eco-regions: Tallgrass Prairie (Central), Great Lakes (Northwest), Tillplain (North Central) and Low Plateau (Southern Indiana).
Through a collection of interviews from such noted Indiana figures as author James Alexander Thom, photographer Darryl Jones, and Indiana University English professor and noted author Scott Russell Sanders, viewers will gain an appreciation for Indiana's understated landscapes and overall distinctive beauty.
Producer J. Robert Cook and his production team spent 10 months on location in some of Indiana's most treasured state parks, nature preserves and fish and wildlife areas. The result is a picturesque video postcard of Indiana that captures the subtle power of Clifty Falls in Southern Indiana, the regal glory of the Northern Dunes, the quiet grace of Kankakee Sands, the shaded depths of the Southern Highlands, and many more Indiana gems.
Produced in cooperation with the Indiana Department of Natural Resources and the Indiana chapter of the Nature Conservancy, "Naturally Indiana" - an "Across Indiana" special, was made possible by Mundel & Associates, Inc.