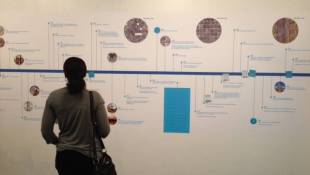 City and civic leaders threw a party last night for Indy's newest comprehensive planning effort. They see Plan 2020 as a chance to think big, overhaul outdated planning blueprints and give the city a present for its bicentennial.
Loraine Vavul was among the approximately 100 people who came to Old City Hall Wednesday night to chip in her thoughts about Indianapolis as the city gets started on the plan for its future.
"You don't need to be a CEO of a corporation to make a difference. Individual citizens can make a difference and contribute great ideas. I've often said I could've moved to Chicago but I'm so glad I stayed in Indianapolis because one person can make a difference," says Vavul.
Funded in part by a $1 million grant from the Lilly Endowment, it's built around themes such as "Love Indy" and "Choose Indy". The plan is aimed at retooling plans for land use, transportation, housing, recreation and economic development in time for the city's 200th birthday.
Brad Beaubien of the city's Department of Metropolitan Development, a lead agency on Plan 2020, says it's a way of tackling issues like stagnant property taxes and sprawl in a car-centric city, at a time when its demographics are changing. Indy is drawing more international immigrants and it needs to consider the influence of Millennials, a demographic group larger than Baby Boomers and soon one that will outnumber them in the workplace.
"We're trying to think, well, what is our legacy to the next 100 years of our city? So you kind of combine all those problems and opportunities and the chance to step back and reflect, and that's kind of the genesis of 2020," says Beaubien
Beaubien says he'll feel successful if the group can make some progress on transportation, in particular the rapid transit lines that IndyGo has proposed, and on the issue of jobs.
"There's a lot of focus out there about attracting new people to town and that's fantastic, we need to do that, but there are people here we need to grow," Beaubien says. "We have people who are trapped in poverty, who are trapped with less than a high school education, they're trapped with a low skill manufacturing background and those jobs have disappeared and they're no longer economically relevant anymore. So what do we do with that whole group of people?"
The planning group aims to finish its work next December.