America's Test Kitchen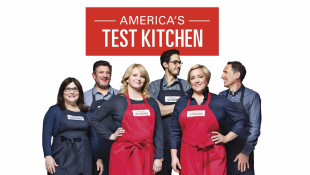 From pan-seared salmon to ultra-nutty pecan bars, the recipes in Americas Test Kitchen will work the first time you try them, thanks to the dozens of test cooks who develop, refine, and test recipes again and again until they arrive at the very best versions.
Take a look at some of these fan favorite recipes from the show's 20 year run
Weeknight Roast Chicken

Click here for the full recipe.

Roast chicken is often described as a simple dish, and it is, at least in terms of flavor—when the dish is made properly, the rich flavor and juicy meat of the chicken need little adornment.

This recipe was picked by Hoosier viewers as their favorite.

1 tablespoon kosher salt
½ teaspoon pepper
1 (3 1/2- to 4-pound) whole chicken, giblets discarded
1 tablespoon olive oil
1 recipe Tarragon-Lemon Pan Sauce (optional)

Ragu alla Bolognese

Click here for the full recipe.

There are many different ways to interpret what "real" Bolognese sauce is. But no matter what the ingredients are, the sauce should be hearty and rich, but not cloying, with a velvety texture that lightly clings to the noodles.

1 cup low-sodium chicken broth
1 cup beef broth
8 teaspoons unflavored gelatin
1 onion, chopped coarse
1 large carrot, peeled and chopped coarse
1 celery rib, chopped coarse
4 ounces pancetta, chopped fine
4 ounces mortadella, chopped
6 ounces chicken livers, trimmed
3 tablespoons extra-virgin olive oil
¾ pound 85 percent lean ground beef
¾ pound ground veal
¾ pound ground pork
3 tablespoons minced fresh sage
1 (6-ounce) can tomato paste
2 cups dry red wine
1 pound pappardelle or tagliatelle pasta

Soft and Chewy Molasses Spice Cookies

Click here for the full recipe

The ideal molasses cookie recipe would produce a charmingly crackled and crinkled cookie with an uncommonly moist, chewy interior and a spicy flavor with undertones of dark, bittersweet molasses.

1/3 cup granulated sugar (about 2 1/2 ounces), plus 1/2 cup for dipping
2 ¼ cups unbleached all-purpose flour (11 1/4 ounces)
1 teaspoon baking soda
1 ½ teaspoons ground cinnamon
1 ½ teaspoons ground ginger
½ teaspoon ground cloves
¼ teaspoon ground allspice
¼ teaspoon ground black pepper
¼ teaspoon table salt
12 tablespoons unsalted butter (1 1/2 sticks), softened but still cool
1/3 cup packed dark brown sugar (about 2 1/2 ounces)
1 large egg yolk
1 teaspoon vanilla extract
½ cup molasses (about 6 ounces), light or dark

Shrimp Scampi

Click here for the full recipe

ATK's shrimp scampi recipe uses a few test kitchen tricks to ensure flavorful and well-cooked shrimp along with a cohesive, garlicky wine-and-butter sauce.

3 tablespoons salt
2 tablespoons sugar
1 ½ pounds shell-on jumbo shrimp (16 to 20 per pound), peeled, deveined, and tails removed, shells reserved
2 tablespoons extra-virgin olive oil
1 cup dry white wine
4 sprigs fresh thyme
3 tablespoons lemon juice, plus lemon wedges for serving
1 teaspoon cornstarch
8 garlic cloves, sliced thin
½ teaspoon red pepper flakes
¼ teaspoon pepper
4 tablespoons unsalted butter, cut into 1/2-inch pieces
1 tablespoon chopped fresh parsley

Sticky Buns

Click here for the full recipe

Many recipes for sticky buns call for a firm, dry dough that's easy to manipulate into the required spiral, simple to slice, and sturdy enough to support a generous amount of topping. But firm, dry sticky buns aren't very appealing.

Flour Paste
cup water
¼ cup (1 1/3 ounces) bread flour


Dough
cup milk
1 large egg plus 1 large yolk
2 ¾ cups (15 1/8 ounces) bread flour
2 teaspoons instant or rapid-rise yeast
3 tablespoons granulated sugar
1 ½ teaspoons salt
6 tablespoons unsalted butter, softened


Topping
6 tablespoons unsalted butter, melted
½ cup packed (3 1/2 ounces) dark brown sugar
¼ cup (1 3/4 ounces) granulated sugar
¼ cup dark corn syrup
¼ teaspoon salt
2 tablespoons water
1 cup pecans, toasted and chopped (optional)

Filling
¾ cup packed (5 1/4 ounces) dark brown sugar
Watch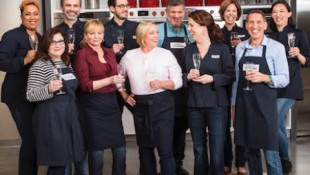 November 18, 2019
Coming this November: Celebrate 20 years of Americas Test Kitchen on television with our 20th...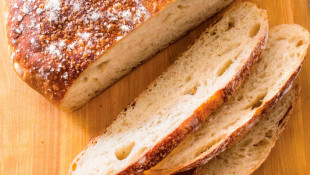 June 5, 2019
The best roast chicken with root vegetables and almost no-knead sourdough bread.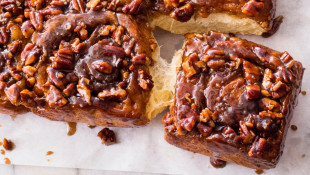 June 5, 2019
The secrets to making the ultimate Sticky Buns at home.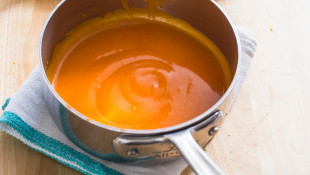 May 31, 2019
Make the ultimate roasted bone-in chicken breasts and learn the secrets to baked potatoes....