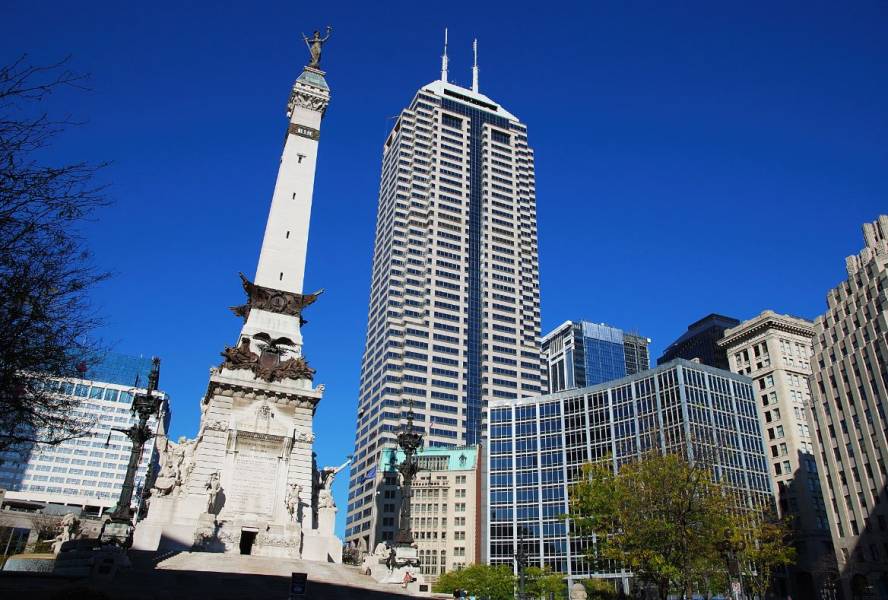 CORPORATE SUPPORT: Sponsorship and Marketing Opportunities with WFYI Public Media
Contact Corporate Underwriting
WFYI is Different.
We're a public (not-for-profit) radio and television station (and yes - that also includes community events and education, our website, the monthly WFYI Insiders' Magazine, the WFYI app, special events – like our Listen Up series, social media channels and e-news as well.)
Our mission: To empower, educate, entertain and connect our community through impactful journalism, inspiring stories and lifelong learning.
What is Public Media?
It is trusted, valued content that has minimal interruption, where your message is clutter and commercial free in a three minute (or longer) advertising block. We have a strong, enthusiastic, educated, affluent and influential audience that loves WFYI so much, they donate their dollars so that we can continue to provide NPR news, PBS television, and create well-crafted, Emmy award-winning locally-produced programs (54 to be exact) and original content.
WFYI delivers trusted and valued content to all counties in Central Indiana: from Marion County to Peru, and Monroe County to Carmel, with Greenwood, Southport, Franklin, and Muncie and Anderson in between.
The public media audience greatly appreciates those businesses and organizations who choose to support WFYI.
Interested in learning more about the WFYI audience, our demographic information, and our statewide reach? Check out the Corporate Underwriting Media Kit by clicking on the button below!
Audience Focused Programming
WFYI has three television channels available for you to get your message across.

WFYI delivers children's programming during the daytime, and news, public affairs programs, documentaries, British comedies and how-to programming in the evening.


WFYI 2 features PBS Kids 24/7 channel, offering a huge variety of PBS educational programming.


WFYI 3 features how-to programs with cooking, home improvement, painting and more during the day, with local and national productions from 8 pm to midnight.
WFYI has two radio stations: WFYI 90.1FM and WFYI HD2 The Point

WFYI 90.1 FM HD1 Home to WFYI Public Radio's traditional NPR and BBC program fare, along with 90.1 FM's award-winning local news and public affairs shows.

WFYI 90.1 FM HD2 (also known as "The Point") This alternative service features the same thought-provoking programming that local public radio fans have grown accustomed, but with a trendier and more engaging media format that's not just available through HD radio technology, but also available live-streamed online through WFYI's website.
WFYI INSIDERS' MAGAZINE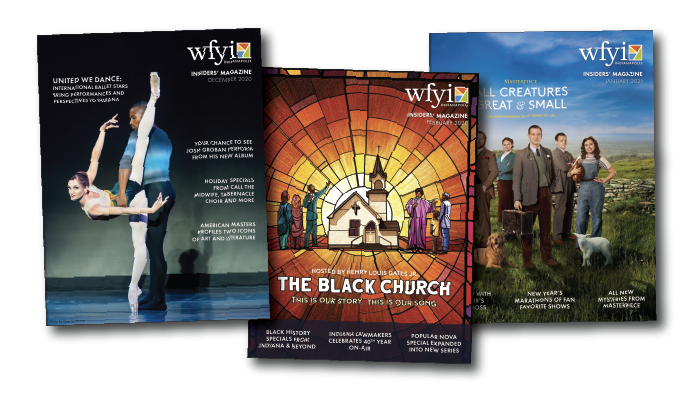 WFYI's Insiders' Magazine is mailed to an average of 16,000 subscribers a month, and 7,000 receiving the magazine electronically, with additional distribution at events in the community.
View the digital verison of the Insiders' Magazine HERE!
WFYI's DIGITAL AND EMAIL COMMUNICATION
Interested in expanding your digital reach? Check out our homepage and our 'Listen Now' streaming services, as well our interactive e-newsletters.
WFYI.ORG: ~87,019 unique visitors per month (average per month)
WFYI.ORG/Listen-Now: ~70,000 visitors per week (average per week)
WFYI Top 5 e-Newletter: ~37,000 subscribers, sent once a week
WFYI Passport Picks Email: ~57,000 subscribers, with around a 30% click-through-rate.
Contact Corporate Underwriting
By the Numbers
WFYI RADIO AUDIENCE CONTINUES TO GROW
In this current, often caustic media landscape, WFYI 90.1 FM is the resource of choice for news and information on local, national and global matters. Attracted to WFYI's and NPR's commitment to non-bias and journalism with integrity; 73% of our audience ONLY listens to WFYI. There is no other radio frequency that reaches them. And who are our listeners?
82% of them are between 25 and 54
Over two-thirds of them have a bachelor's degree or more and over 59% are professionals
Almost 60% have an income of $75k+
3 out of 4 of them believe in social responsibility
92% of them believe in life-long learning
Big picture, they are educated, affluent professionals that are engaged in the community and are curious to learn more
95% of public media listeners have taken a direct action as a result of a company's sponsorship
87% of the NPR audience shares stories starting with 'I heard on NPR …'
67% prefer to buy products from businesses that support public media
WFYI & PBS CONTINUE TO RANK #1 IN PUBLIC TRUST
The WFYI viewers experience the worlds of science and history with NOVA and American Experience; follow current events with PBS NewsHour and FRONTLINE; and enjoy world-class drama and performances with MASTERPIECE and Great Performances. PBS Kids continues to rank #1 in school readiness, and 99% of moms say PBS Kids is educational and high quality.
By aligning with public television programming, sponsors can showcase their brand in a trusted, uncluttered environment. We focus on continuing to bring you and your kids educational programming, along with our local documentaries, such as - Eva: A-7063, Richard Lugar: Reason's Quiet Warrior, A Writer's Roots: Kurt Vonnegut's Indianapolis, and many more.
87% agree that conitinuing to learn throughout life is very important
71% of PBS viewers say companies who sponsor PBS provide a valuable public service
68% agree that sponsor are committed to quality and excellence
64% agree that PBS sponsor messages are seen as different and better
40% of PBS Kids audience are adults, and 1 in 5 are women ages 18 - 49
Contact Corporate Underwriting
Target an Audience That Cares
WFYI underwriters consistently hear "Thank you for supporting WFYI!" or "We heard about you on WFYI!" from new and existing customers. We've heard that from our current clients in the automotive, retail, accounting, legal, medical, and education industries. It's always nice to be thanked for where you spend your marketing or community sponsorship dollars. Plus, you are likely to see a boost in inquiries and sales!
They are Cultural Connoisseurs– they appreciate art and music, they attend cultural events and they are curious explorers and have discretionary income to spend.
They are Business leaders in the community, in top management or business owners and decision makers and they are Civic Leaders, serving on non-profit boards, committees and are civically engaged.
They are Educated Lifelong Learners – with post-graduate degrees who want to explore and learn new things.
Check out these testimonials from some of our underwriters:
"As a performing arts organization, we find that the audience of WFYI is very much in line with ours, so having WFYI be a partner is a very natural fit for us."
"We reached a target demographic last holiday season that we were lacking with other marketing plans."
"WFYI reaches much of our target audience and potential new patrons. The station also provides a sense of professionalism and worthiness to our brand."
"Goose the Market and Oca value being part of an informed and connected community, and we prioritize marketing efforts that also bring valuable services to our neighbors. WFYI provides educational and entertaining content that invites us all to the table."
"Borshoff has been underwriting on WFYI for more than 25 years, and to this day, people will say to us, "Oh, I've heard of you on NPR [WFYI]!" We recommend it to clients as a place to build their brand with community leaders."
"Working with WFYI is one of the best decisions that we have made as a business. From the initial conversation with (account executive) to the signing of the contract (and a couple amendments because we keep adding!), everything has been a seamless, enjoyable experience. (Account Executive) was able to work with us and the underwriters to come up with a plan that best suits us based on our type of business and target listener. Never did we expect our activity to jump 400% during the weeks that we were scheduled to air. To say that we have been impressed is understatement and wish we had started with (account executive) and the team months ago!"
- Greenscape Geeks, February 2019
Contact Corporate Underwriting
We Go Beyond Central Indiana
WFYI and the eight Indiana Public Broadcasting stations that make up IPB News is expanding their statewide news coverage thanks to $1.7 million in grant funding from Lilly Endowment Inc. and the Corporation for Public Broadcasting. This will allow our independent, nonprofit newsroom to grow and sustain its coverage for years to come. This investment will allow for us to hire new reporters, a full-time managing editor and a dedicated video journalist. It will also include development of a daily, statewide radio talk show, tackling the issues of the day and answering questions from listeners. You can read more here.
Indiana Public Media is a mission-based non-profit media organization made up of 9 FM radio and 8 television stations, reaching 99% of Hoosiers.
Indiana Public Media Stations represent the flagship NPR & PBS stations in their markets.
Indiana Public Media is Indiana's ticket to the arts and storytelling, offering national and local productions that celebrate all the ways arts and culture enhance our lives.
Indiana Public Media creates conversations and convenes partners around important initiatives, which increases awareness of the community's most pressing issues, which informs and provides in-depth coverage, telling the whole story, resulting in enacting change.
Our health reporting team - Side Effects Public Media, is a health news initiative exploring the impacts of place, policy and economics on America's health; including reporting on chronic disease, to mental health and addiction, to infant mortality. The Side Effects team is headquartered at WFYI in Indianapolis, and works in partnership with other public radio stations around the Midwest and Great Lakes regions.
Say, "Hello!"
You should learn more about us. Use our contact form for more information or call (317) 614-0468.
To learn about upcoming events, as well as current sponsorship and underwriting opportunities, sign up for our Underwriting Monthly Email!
See what we've been talking about in our emails: