Ford, Ram, and General Motors dominate the pickup truck segment, but there are other trucks worth considering. Let's call them the "alternative pickups" like the Wrangler-based Jeep Gladiator and Mississippi-built Nissan Titan. Both prove that taking a different path has rich rewards for pickup buyers.
2020 Jeep Gladiator Is The Truck Jeep Fans Have Been Wanting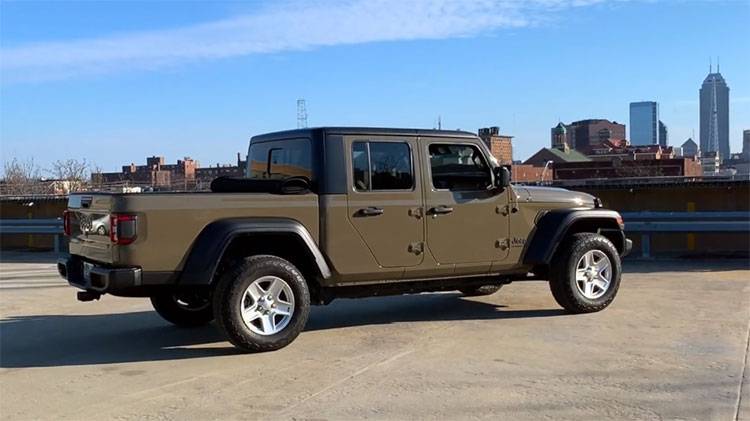 The 2020 Jeep Gladiator Sport. (Doug Jaggers/WFYI)
Jeep fans have been asking for a pickup. And, it's not the first time. The brand offered a one-ton 4x4 pickup in the '50s, the Cherokee-based full-size Gladiator in the '60s, and CJ-7-based Scrambler in the '80s, and the Cherokee-based Comanche into the '90s. Given excellence of the current-generation Wrangler Unlimited, basing the new 2020 Jeep Gladiator on it was a no-brainer.
Head-on, the Wrangler's seven-slot grille, big round headlamps, and beefy bumpers are evident. But, move to the side, and you immediately notice the stretched wheelbase and bed on the back – kind of like Jeep's version of the mullet, except it's more like party in the front and business in the back. We drove the base Sport model that rides on 17-inch wheels with off-road tires and goes sans step bar, which is fine by me because the bars do little more than muddy pants. Roll back the tonneau to find spray-in bedliner, tie-downs, and household power plug.
Hop inside. Looking forward, the Gladiator is exactly like the Wrangler – same flat dashboard, same upright glass, and same easy to use controls. As with Sahara and Rubicon editions, the dash features a simple touchscreen with intuitive icons for audio, climate, phone, and apps plus redundant controls below for volume, tuning, and key climate functions.
This in a vehicle loaded with heated front seats, heated steering wheel, overhead audio bar, and devices connected via Bluetooth, Apple CarPlay, and Android Auto. Safety is amped with adaptive cruise control, forward collision warning with auto brake, blind spot monitor, and rear cross path detection.
What makes the Gladiator unique, of course, is its top, windshield, and doors – as in the top retracts, doors can be removed, and the windshield folds forward if you choose. Our truck has the hard Freedom Top with twin removable panels over the front seats. A bundle of tools lets you and a friend remove the entire roof for that open air summer experience. If that sounds like too much work, choose the standard retractable canvas roof.
The standard 3.6-liter V6 delivers 285 horsepower and 260 lb.-ft. of torque, routed to the part-time four-wheel-drive system through an eight-speed automatic transmission. That's enough power to pick up the pickup and kick it up, but also delivers 17/22-MPG city/highway. That's not going to impress hybrid drivers, but isn't bad for a heavy brick. Properly equipped, the Gladiator V6 can pull a robust 7,650-pound trailer or haul 1,535 pounds of payload. Upon introduction, the current Wrangler's on-road ride was a revolution in civility. While the Gladiator doesn't seem quite that smooth, it is more than livable in daily driving. Having a turning radius engineered for tight trails also pays off when maneuvering through parking garages and narrow city streets.
Jeep fans have been asking for a pickup. Whether they got the truck they want depends on perspective. If they desire a vehicle to haul and tow, there are smoother choices. But, this is a vehicle that can tow and haul, but also transforms into an all-capable convertible. I suspect that's exactly the truck fans expect. Let's hope they're fine with a $33,545 base price, or $50,540 as-tested. Competitors include the Nissan Frontier, Ford Ranger, Chevy Colorado, GMC Canyon, and Toyota Tacoma.

Refreshed 2020 Nissan Titan Battles Titans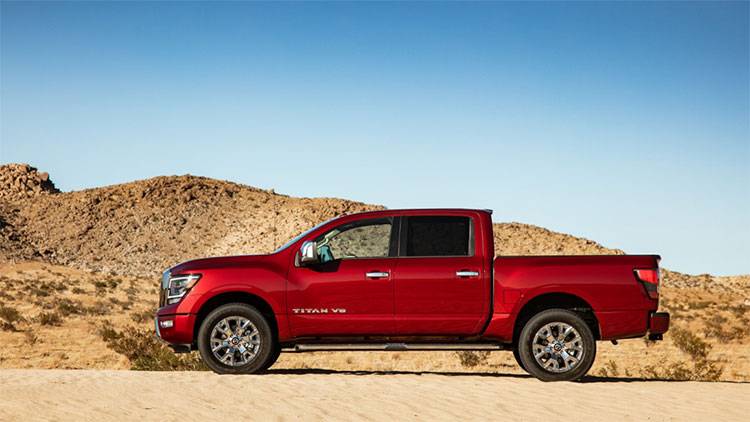 The 2020 Nissan Titan. (Provided photo)

Either slay dragons or be slayed by them. Looking at 2019 full-size sales from Automotive News, it looks like Nissan has been getting slayed. The best-selling Ford F-Series Ford sold 896,526 of its best-selling F-Series last year. Fiat Chrysler dispatched 633,694 Ram pickups while GM sold 575,600 Chevy Silverados and 232,323 GMC Sierras. And, the Nissan Titan? Just 31,514.
That's a shame, because the Titan is a very nice truck. And, it's even nicer for 2020.
Designers refined the chrome grille and put our SL-grade crew cab over 20-inch chrome alloy wheels separated by chrome step bars. Extendable side mirrors peek around trailers. Headlamps and taillights have also been revised. It all looks more streamlined and glistens in the sunshine. At night, LED bed lighting lets hard working men and women deliver their wares.
Up inside, passengers find a new flush touchscreen, woodgrain dash trim, and a full load of luxury gear that includes crisp 12-speaker Fender audio, heated front and rear seats, heated steering wheel, and dual pane sunroof. A power steering column, automatic climate control, and rain-sensing wipers add convenience. Devices connect via Apple CarPlay, Android Auto, Bluetooth, and Wi-Fi hotspot. Five passengers will certainly enjoy their journey.
Keeping them safe is a full suite of crash avoidance systems. Adaptive cruise control, forward collision warning with auto brake, and lane departure warning are a good start. There are also blind spot warning, rear cross path detection, front/rear sonar, and trailer brake controller to give drivers a wheel up in keeping fenders clean.
Nissan is simplifying its truck line-up, cancelling the kinda heavy-dutyish XD and its Cummins diesel engine. That leaves just a 32-valve 5.6-liter V8 under the Titan's hood. It delivers 400 horsepower and 413 lb.-ft. of torque – all kicked to the four-wheel-drive system through a nine-speed automatic transmission. It can tow 9,200 pounds, but only achieves 15/21-MPG city/highway.
After driving a key competitor to the Titan the week before, I took delivery of our test truck. From the first block, it felt smoother, quieter, and just more refined overall. The chassis is very close to top of class in its ability to glide over rough pavement without wiggling its tail. I'm a big fan of the new Fender audio system, revised touchscreen, and interior style. It's a very nice truck.
The Titan's weak sales numbers are not about Nissan delivering an excellent truck. It has. The issues are options and loyalty. With the demise of the XD, Nissan has no "extra duty" pickup, let alone multiple levels of heavy duty models like its domestic competitors. There's now only a Crew Cab with short box. The Canton, Mississippi-built Titan starts at $36,190, but came to $59,180 as tested. That seems a lofty toll in the Titan's attempt to slay competitors.
Storm Forward!
Send comments to Casey at AutoCasey@aol.com; follow him on YouTube @AutoCasey.
2020 Jeep Gladiator Sport
5 passengers, 4WD Pickup
Powertrain: 3.6L V6, 8-spd auto trans
Output: 285 hp/260 lb.-ft.
Suspension f/r: Solid axles
Wheels f/r: 17"/17" alloy
Brakes f/r: disc/disc
Must-have features: Style, Capability
Fuel economy: 17/22-MPG city/hwy
Assembly: Toledo, OH
Base price/As-tested: $33,545/50,540
2020 Nissan Titan SL Crew
5 passengers, 4WD Pickup
Powertrain: 5.6L V8, 9-spd auto trans
Output: 400 hp/413 lb.-ft.
Suspension f/r: Ind/Solid axles
Wheels f/r: 20"/20" alloy
Brakes f/r: disc/disc
Must-have features: Style, Refinement
Fuel economy: 15/21-MPG city/hwy
Assembly: Canton, MS
Base price/As-tested: $36,190/59,180